Olive Bread (For the Bread Machine)
racrgal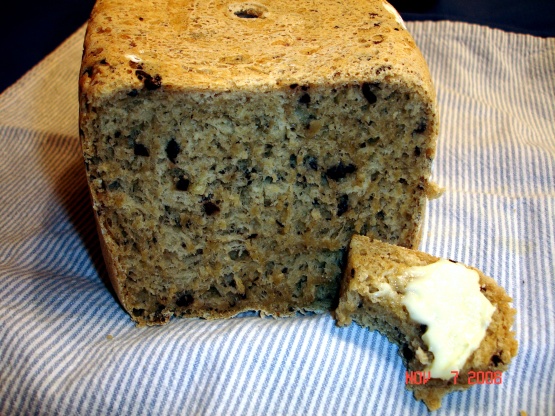 My local bakery occasionally makes an absolutely fabulous olive bread which I have attempted to clone. This is the closest I can come to it and it is a very nice version though not as great as the original. As usual, the best ingredients make the best bread so get the best olives you can find - it really makes the difference.

Two years ago I was in Winnipeg for business and the hotel that I stayed at served this bread, I've been obessed in finding a recipe to recreate that memory. Thank you!
First prepare the onion. Sprinkle the slices with salt and allow to sit for 5 minutes. Then rinse and squeeze to drain. The onion will be softer and not as sharp tasting. Finely chop, you should have around 2 tablespoons.
Pit the olives with a sharp knife and roughly chop.
Add the olives, chopped onion, oregano, garlic and tomato paste together and grind in a little black pepper to taste.
Set the bread machine on the basic cycle which is around 3 hours.
Add the remaining ingredients into the bread machine in the order recommended by the manufacturer, (mine is liquid first then solid) and then add the olive mixture at the beep for extras.
Bake with a medium crust or dark if you like it that way.
This bread is wonderful with a Greek salad or spread with tarama or eggplant dip.