Olive and Rosemary Quickbread
JustJanS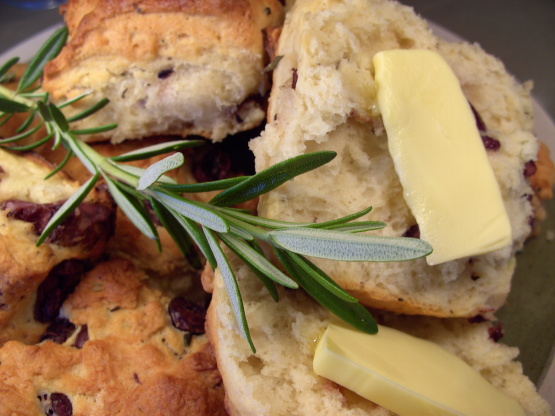 Torn from a magazine but as yet untried by me .

These had a really good flavor, but were more like a biscuit than a bread. But definitely a keeper. Like the other reviewer, I cut the olives into quarters. I think I did knead them a bit too much, I'll try just a few turns next time. Where I live you can't get really good bread. These are quick and easy, and much better than what's available locally. Next time, I may try substituting roasted garlic for the olives. Yum!
Heat oven to 220 C.
Grease 23 cm square cake pan.
Sift flour and salt into large bowl.
Rub in butter with fingertips until like course breadcrumbs.
Add rosemary and olives.
Stir in buttermilk and enough water till you have a soft, sticky dough.
Knead dough on floured surface until smooth.
Using your hands press dough into a 22 cm square shape.
With sharp knife cut into 12 equal pieces.
Place pieces slightly apart in prepared pan.
Brush with extra buttermilk, extra rosemary and olives.
Bake 30 minutes or till golden brown.