WiGal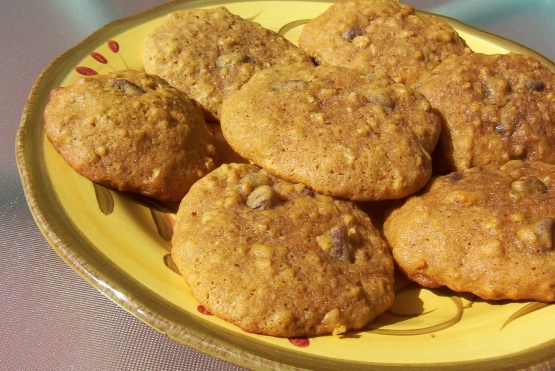 This makes a lot of cookies. I got this recipe online and adjusted it for taste. There are many pumpkin cookie recipes here, but I think this one is different. It is all stuff you usually have in your pantry. This is great with chocolate chips and nuts in place of the raisins too. At the listed baking time you end up with a texture like a muffin top, but you can add time for a chewier cookie.

I had the same problems others did with them spreading too much. Added 1/2 cup flour and 1/2 cup more oats to the leftover batter and they did better... didn't spread at all but weren't falling apart either. I didn't think they tasted much like pumpkin and seem to remember some recipes where pumpkin is used in place of oils so I may replace half the butter with more pumpkin and see how that goes... of course it would be an entirely different recipe at that point! (Also reduced the nutmeg and sub'd with some allspice due to personal preference.)
Preheat oven to 350°F Combine the flour, oats, baking soda, cinnamon and salt; set aside.
In a large bowl, cream together the butter, brown sugar and white sugar until smooth. Beat in the egg and vanilla then stir in the pumpkin puree. Gradually stir in the dry ingredients until well blended. Mix in raisins. Drop by rounded spoonfuls onto ungreased cookie sheets.
Bake for 10 to 12 minutes in the preheated oven. Allow cookies to cool on baking sheet for 5 minutes before removing to a wire rack to cool completely.