Oatmeal Cinnamon Chip in a Jar Mix
Katzen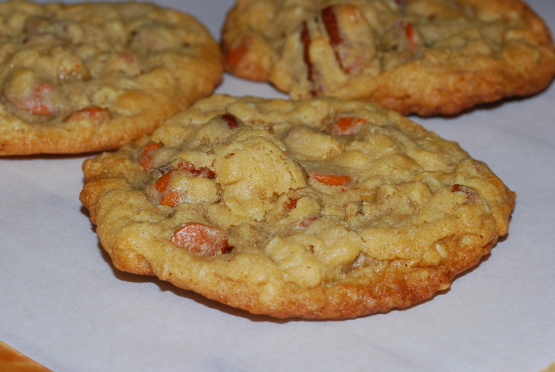 Be sure to place a ribbon on the jar with directions for baking.

Top Review by Katzen
Ooooh, these are yummy, yummy, YUMMY! I made them at Loula's suggestion tonight, and doubled the batch - am I glad I did! I totally missed the 1/2 cup sugar listed after the brown sugar, but the recipe didn't suffer at all! I also added pecans because I was about a half cup short on cinnamon chips when I doubled the recipe - that worked out well, but next time I'm going to make them with just the cinnamon chips. Thanks so much, Rita - awesome recipe! Made for Veggie Swap 18.
Combine flour, soda, and powder.
Place in a 1 quart jar.
Layer remaining ingredients pressing firmly after each layer.
Recipe to attach to jar:.
Preheat oven to 375°F.
Beat 12 tablespoons softened unsalted butter, 1 egg and 1 teaspoon vanilla in a large bowl until well blended. Place cookie mix in an other bowl and mix to combine ingredients. Add butter mixture and blend in to smooth any clumps. Drop tablespoon full onto ungreased pan and bake 9-11 minutes.