Oatmeal Apple Nut Muffins
Redsie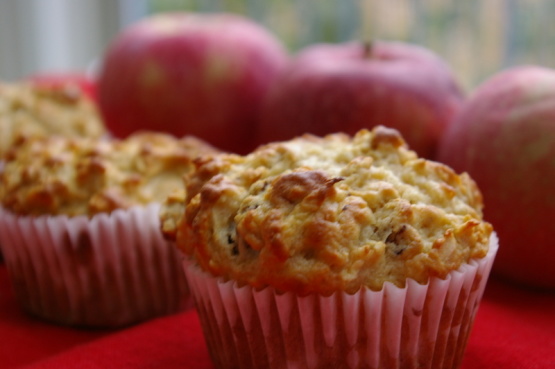 Oatmeal is a healthful way to start your day and these muffins are full of nutrition and good taste.

I really wished I liked these, but I just didn't. I don't know what I did wrong, but my muffins were very dry and had a somewhat bitter aftertaste remniscent of baking soda or powder (?). I made these in the hopes of tempting my little one into eating a healthy breakfast...she couldn't get past taking a bite (spit it out). I'll eat them, cause I can't stand to see them wasted, but I don't think I'll make them again. UPDATE: I've since decided my AP flour was contaminated w/ self-rising and causing bitterness everywhere...this recipe may be better than I made it!
Combine oats, apple, maple syrup, yogurt, egg and oil in a medium sized bowl.
In another bowl, combine flour, baking powder, soda, salt and nuts.
Fold the liquid ingredients into flour mixture until just combined; do not overmix.
Spoon batter into 12 large paperlined muffin tins.
Bake in an oven preheated to 400 degrees for about 20 minutes.