vrvrvr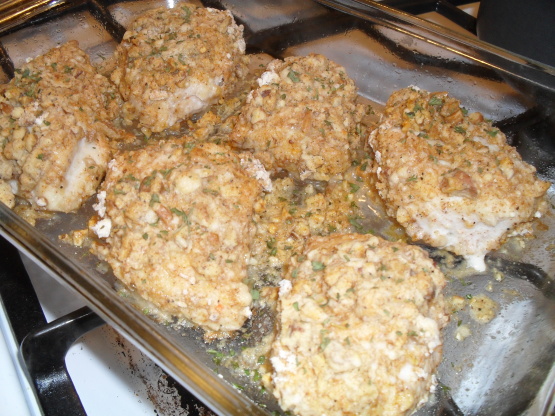 This is from a taste of home magazine. A woman named Diane Hixon entered it in a chicken recipe contest. It won Grand Champion I didn't see it here on zaar so I thought I'd post it!! This is sooo good! So moist and flavorful!

Top Review by vrvrvr
Had higher hopes for this chicken, especially after reading CarrolJ's review. I had boneless breasts (1.3 lbs.) and scaled down the recipe accordingly, but used everything called for and followed directions. The chicken was dry and somewhat bland. I served it with a flavorful rice pilaf, and it tasted very good when combined with bites of rice and another creamy vegetable side dish. On its own, I'm afraid this chicken was only so-so. I wonder if bone-in chicken pieces would make a remarkable difference. Otherwise, not too memorable.
Preheat oven to 350°F.
In a shallow dish, combine biscuit mix, pecans and seasoning; mix well.
Dip chicken pieces in milk; coat generously with pecan mixture.
Place in a lightly greased 13 x 9 x 2 inch baking dish. Drizzle butter over chicken.
Bake, uncovered for 1 hour or until juices run clear.