Nutella Banana Brunch Bake
enagar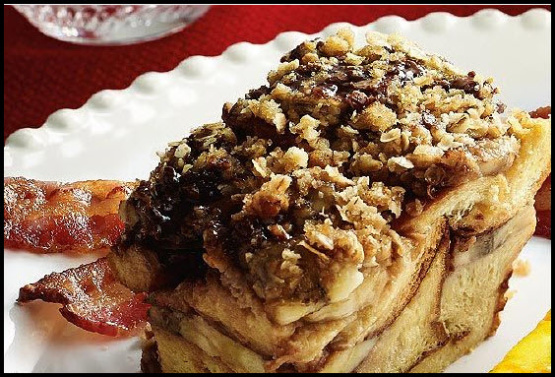 This recipe was in Publix grocery store mailer for the holidays but is now removed from their site. It was also listed on another site but 2 ingredients were missing! So I am putting it here for safekeeping. I made it for Christmas morning and it was really delicious. It made a huge pan, but the leftovers were good for a couple of days, cold and hot!

Top Review by enagar
Thank you for posting the recipe! I had saved the recipe on my Pinterest board but the link pointed to the Publix site where they have removed the recipe. I plan on making the bake this weekend. My coworker made the recipe last year for Christmas and it was a huge hit!
Preheat oven to 375 degrees F.
Coat 13x9 baking dish with 1 Tbsp butter.
Place remaining butter into small bowl to soften.
Tear bread into bite-size pieces. Place 1/2 bread into baking dish.
Top bread with 1/2 of the banana slices and dollops of 1/2 of the Nutella.
Repeat layers of bread, banana, Nutella.
Whisk together eggs, milk, 1/2 cup brown sugar, and vanilla. Pour mixture over bread.
Let stand for 15 minutes or until most of the liquid is absorbed.
Combine oats and 1/2 cup brown sugar and softened butter until crumbly. Sprinkle over top of bread mixture.
Cover with foil and bake for 30 mins until set.
Remove foil and bake 10-12 mins more until topping is golden. Let stand 10 mins before serving.