Nova Scotia Maple Chicken
KateL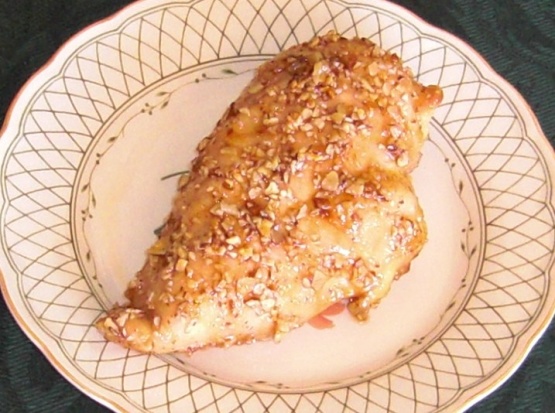 Caution: Recipe calls for almonds; persons with nuts intolerance should exclude this ingredient entirely from the recipe. Chicken is tender; sauce can be poured over Sweet potato, rice, or orzo accompaniment. Serve with salad and/or other vegetables. Sauce is excellent over sweet potatoe or carrots; however this creates a very high sugar content; not suitable for diabetic diets. Persons with diabetes should not pour this sauce over their vegetables.

I used bone in thighs for this simple and yummy recipe tonight. It's so easy to throw together and whilst it cooked, I made a cous cous dish (with bell peppers, blanched snow peas, craisins, preserved lemon, spring onion and toasted sesame seeds) and a tomato/onion salad to go with it. Thanks Elaine for another good recipe.
Over 400 F (200 C).
Remove skin from chicken pieces, and discard skin.
Place chicken pieces in a shallow 9 x 13 (3 litre) pan.
Mix remaining ingredients and pour over chicken.
Bake in 400F (200C) oven, uncovered, for 50 minutes, basting occasionally.