No Bake Strawberry Cheesecake Tarts (Light)
flower7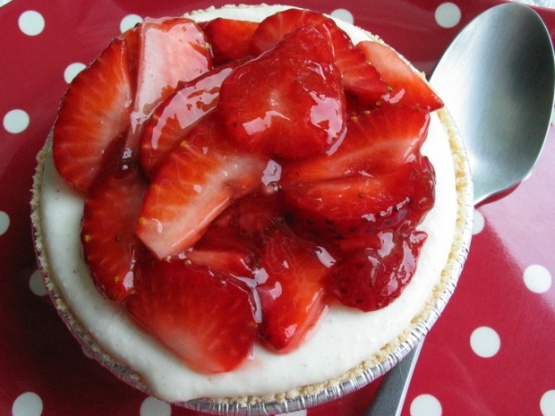 These are made with cottage cheese and thick, creamy, non-fat yogurt. They only take a few minutes to put together and are sure to impress. The prep time does include the 2 hours chilling but not the time needed to drain the yogurt.

These are so yummy! I had one problem though - I halved the filling recipe and still had enough for 4 mini crusts; actually, if I hadn't filled them to overflowing I probably would have had enough for 5 crusts. I forgot to brown the crusts but it didn't seem to have too much effect. I used regular sugar. Definitely can't tell that they are a light dessert. Thanks for sharing!
Place the yogurt in a yogurt strainer or a mesh strainer lined with a paper coffee filter, place in refrigerator and allow to drain for several hours or overnight.
Preheat oven to 375 degrees, lightly brush the tart shells with egg white and bake for 5 minutes, cool completely.
In a blender container, combine the cottage cheese, drained yogurt, sweetner, vanilla and cinnamon.
Divide evenly into the tart shells, place in refrigerator and allow to set for 2 to 3 hours.
Place the fruit spread in a small microwave safe bowl and warm; mix the sliced strawberries and fruit spread, cover and refrigerator.
When ready to serve, spoon the strawberry mixture on top of the tarts and enjoy.