Nif's Grilled Sriracha Garlic Bread
awalde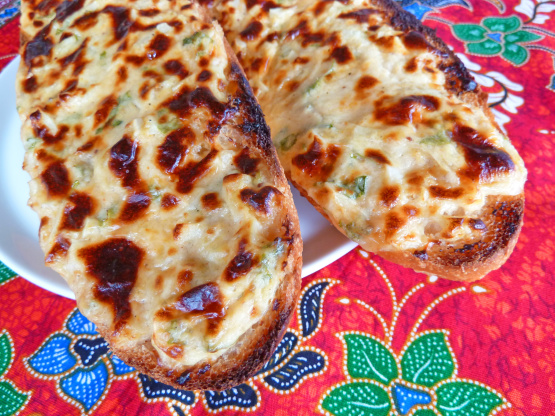 We wanted to make something to go with our grilled steak and lobster and this was a terrific addition that was made up as we went along. Enjoy!.

I did this on the grill (charcoal grill outside), so the top of my bread didn't get that charred look.....thought about putting it under the broiler, but wanted to enjoy the crispness of the bottom of the bread with the soft creaminess of the top. I've never done garlic bread on the grill unless I put it in foil. This was fun and easy! Made for Think Pink 2012.
Preheat gas BBQ to low heat. You can just use one part of your grill for this and cook meat, etc. on the other part.
Mix together the mayo, parmesan cheese, garlic cloves, basil and chili sauce. Spread the mixture over each half of the loaf.
Set the bread halves on the grill, cut side up, over low heat. You want the topping to heat up and the bottom to brown up a bit and crisp. It takes about 10 - 15 minutes. If you want to, you can place the bread on a top rack while you cook everything else. Just make sure it doesn't dry out.