Nif's Grilled Hawaiian Chicken Skewers
Starrynews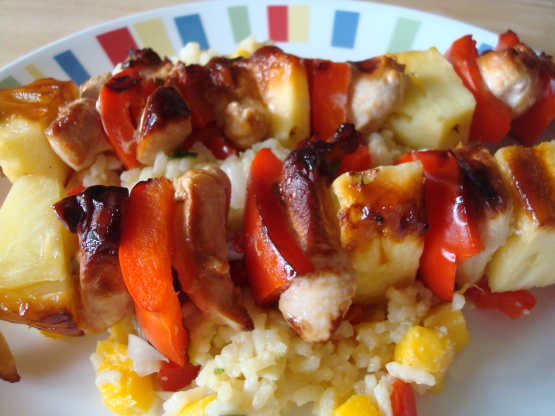 Recipe by Nif
This is a dish that I made up as I went along! It's easy and uses ingredients that most of us have on hand. There is probably enough marinade for twice the amount of chicken. I wasn't going to have a chance to stir the chicken so I wanted to make sure that it covered all of the chicken. I served this over brown basmati rice. The marinating time is not included. ****NOTE: I do not recommend marinating this for more than 2 hours. I find it gets a grainy texture if marinated too long. Enjoy!
Made these last night and they were a huge hit. I searched several sites and chose to make these because I had all of the ingredients. They were absolutely fantastic. Even my extremely picky hubby and kids loved them. Thanks so much for sharing!
Mix all marinade ingredients and add chicken. Marinate for 1 to 2 hours, no more.
If you are using wooden skewers, be sure to soak them in water for 2 hours.
Heat grill to medium-high.
Alternate chicken, pineapple and pepper pieces on skewers. Place on grill until chicken is cooked through, about 5 minutes on each side.