gailanng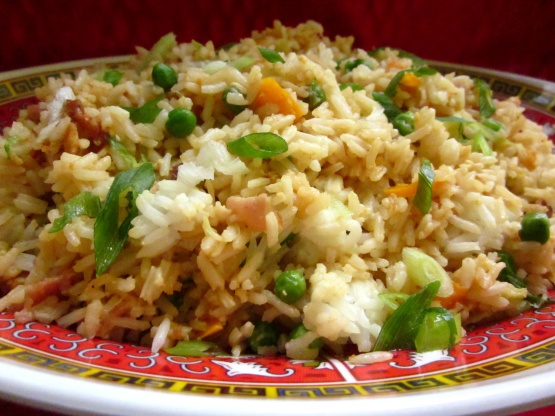 I got this recipe from a Kikkoman booklet. I made it for the first time around 1993 and it was so good I never tried another fried rice recipe ever since.

This fried recipe is one of my favorites, too! I found this recipe in a little spiral-bound Kikkoman-brand cookbook that someone gave me when I was a kid in the 80's. I rediscovered that little cookbook in a box of my old things and turned to that dog-eared page to see that old recipe I enjoyed making when I was a very young cook. I made it yesterday and it was as good as I remembered. I add a couple more strips of bacon because, well, bacon makes everything better! My husband just loved it. (I imagine this would also be great with the addition of shrimp.)
Cook bacon in wok until crisp.
Add green onions, red peppers and peas stir fry 1 minute.
Add egg and scramble.
Stir in rice and cook until heated, gently separating grains.
Add soy sauce; cook until heated through. Serve immediately.