Nacho Cheese Dorito Chicken
madduxx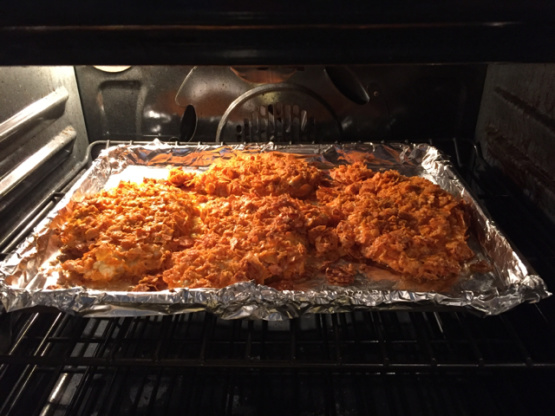 My friend shared this recipe with me, and I was so reluctant because I don't even like Doritos, but she insisted I try it, and my whole family LOVED it. It is moist and has such a great flavor and even smells yummy cooking! Now I make it often. I pound the breast to flatten them and make them cook faster. Let me start by saying, my husband is a professional chef, but I wanted to surprise him with something easy and tasty for dinner and he loved it! He did suggest to pepper the chicken before the mayo step for a bit more flavor, I used Chicken thighs because that's what I had in the house along with Doritos. It turned out very juicy- I did add the butter as well but had excess fat in the pan and could have easily left it out or reduced. However the chicken was very succulent. For thighs I baked at 375 for forty minutes.
Preheat oven to 350 degrees.
Put chicken breasts in zip-lock bag and pound to flatten somewhat.
Combine mayonnaise and Italian Seasoning in wide bowl.
Crush Doritos in a zip-lock into pencil eraser sized pieces (or smaller).
Roll chicken in the mayo mixture and then roll in Dorito crumbs.
Place in casserole dish and drizzle with melted butter all over the chicken.
Bake uncovered thirty minutes.