PaulaG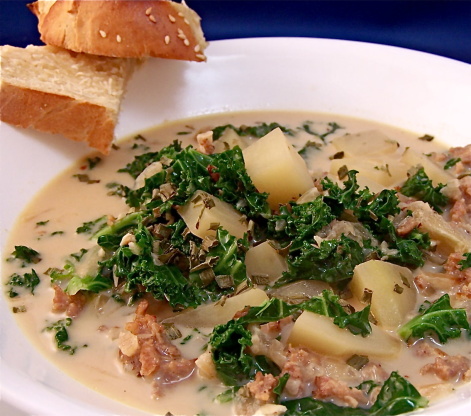 Italian flavors blend in a creamy, satisfying soup that has potatoes, italian sausage, and kale. I like a kick, so I use spicy sausage and add crushed red pepper flakes. The heavy cream really pulls this soup together and makes it restaurant-worthy! Don't forget a fresh, crusty loaf of bread for dipping.

This soup turned out fantastic. I did a few substitutions to make it a lighter dish. For example I used turkey bacon and I did not put the heavy cream in. It maintained the flavor but removing the heavy cream cut down on the calories.
Saute ground spicy italian sausage and crushed red pepper flakes in 1 T olive oil. (I use 8 quart stock pot.) Drain fat and move mixture into bowl, set aside.
In same pan, add 1 T olive oil and saute white onions, garlic, bacon bits, and potatoes until onions are soft.
Add water and chicken boullion powder and stir thoroughly. Bring to a gentle boil and continue cooking until potatoes are soft, 20-30 minute.
Turn off heat, immediately add kale, sausage and heavy cream. Stir together.
Garnish with chopped italian parsley or chives, serve hot with slices of bread.