My Favorite Cooking Light Carrot Cake
Kim S.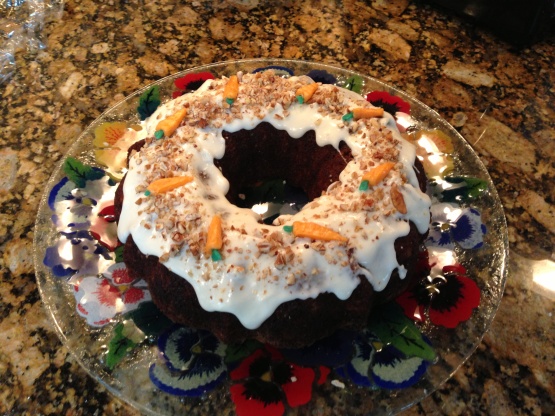 I found this recipe on myrecipe.com and saw that it had the most and the highest rated reviews. I was glad I gave it a shot, the cake was the best carrot cake I've made. It was flavorful and moist. I threw raisins into the mix as well and used my Favorite Cream Cheese frosting recipe. Which I will put on a separate post.

Top Review by k8bug
This is unbelievably moist! Another recipe used 1 1/2 C oil & 4 eggs, just way too much fat. I used whole wheat pastry flour & had to add an additional 1 TB oil & about 1/4 cup non fat milk because I had no pineapple to make it more liquid. I also subbed 1/3 brown sugar for the white & had no coconut but added raisins. It needs no frosting! Next time I'll use part Stevia to bring the carbs & calories down. I used a bundt pan & it took about 45 min to bake. My husband loved it!
Preheat oven to 350°.
To prepare cake, lightly spoon flour into dry measuring cups; level with a knife. Combine flour, sugar, coconut, pecans, baking soda, salt, and cinnamon in a large bowl; stir well with a whisk. Combine oil and eggs; stir well. Stir egg mixture, grated carrot, and pineapple into flour mixture. Spoon batter into a 13 x 9-inch baking pan coated with cooking spray. Bake at 350° for 35 minutes or until a wooden pick inserted in the center comes out clean. Cool completely on a wire rack.
To prepare frosting, combine butter and cream cheese in a large bowl. Beat with a mixer at medium speed until smooth. Beat in powdered sugar and vanilla just until smooth. Spread frosting over top of cake. Garnish each serving with grated carrot, if desired.