This is the best cornbread ever, has been in my family for years. Simple to make, but delicious.
Directions
Mix all ingredients together.
Put the tbs of grease in cast iron skillet to make the cornbread crusty, then pour in all ingredients.
(*Make sure the batter is not thin and runny, if so, add equal consistencies of flour and cornmeal to thicken*).
I sometimes add a little bit of salt, and a tbs of sugar, but this is optional.
Bake on 400-425 degrees for 25-30 minutes.
Most Helpful
This was a nice, fluffy cornbread. I was interested in this recipe because of the addition of mayo for something different. It worked out well. I did add baking powder & baking soda. I found the flavor a bit lacking. I'm not sure why. :/ I used the cornbread to make dressing.

I agree with Marsha D -- there's normally not much that one can do to cornbread to make it different AND better -- but you pulled it off, Chef Sunshine! The buttermilk and mayo are a nice touch. I do confess to one little tweak. I got to looking and saw no baking powder listed in the recipe so I used 1 1/2 teaspoons-full (teaspoon-fulls?!?) just for "safety," and my cornbread turned out nicely risen. Also, next time, I plan to also add 1/4 teaspoon of baking soda to balance out the acid of the buttermilk -- it probably won't make a darn bit of difference in the flavor but it will serve to make me look more astute in front of my family.(grin). Hey, Chef Sunshine, great job! Great cornbread. I had a little left over and I'm going to use it in a stuffed mexican chicken breast recipe that I'm developing -- I know this stuff will make it better!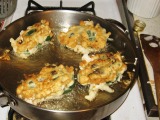 Oh my!!!This is a 5 star for sure! This was so good! Its now my favorite :) I love the ingredients in this recipe. I used the salt and sugar and a large iron skillet which was to big but that is all that I had here at our house. My smaller iron skillets are all up at our camper at the lake. The cornbread came out thin but it didn't change the taste. I had never thought of using mayonnaise in cornbread but WOW! this was delicious!! Its a keeper for sure. Thanks so much for sharing your recipe Chef Sunshine!!