JustJanS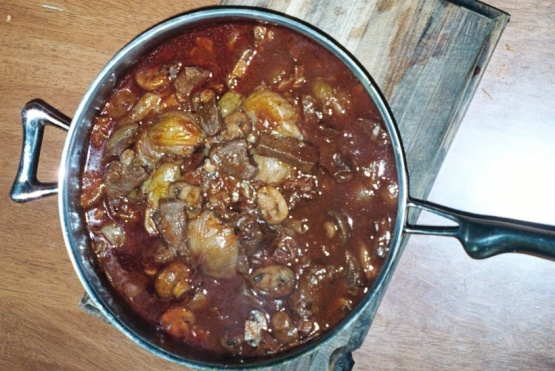 This is a great winter dish. I find that it is very rich but feels nourishing, and of course means you can drink the rest of the bottle. If by chance, you cannot get button mushrooms or they are too expensive, simply substitute big field mushrooms but quarter them, so they are about the same size as buttons.

This was good, like you promised it would be, but I would have enjoyed the addition of some herbs (maybe fresh thyme or marjoram, then parsley to finish). I think the onions could have been browned and added at a later stage, as they almost disintergrated with the long slow cooking needed for that cut of meat. Don't get me wrong though, it was just what we wanted on a wintery night. We ate this with mashed potatoes and steamed green veggies. We drank the rest of the bottle;-)
First prepare the beef, cut any excess fat off and cut into roughly 2cm cubes.
Melt one tablespoon of the butter and olive oil over a fairly high heat.
Saute the meat in batches, constantly moving it around the pan.
It should be well and truly sealed but not cooked through.
Remove and drain on paper towels.
Repeat with remaining beef, using an additional tablespoon of butter and oil if you need it.
Add the last tablespoons of oil and butter to the pan with the mushrooms, onions, bacon, garlic and thyme.
Stir until the onions gain a little colour.
Add the liquids and tomato paste to the pan, scrape up all the black bits.
Now stir in the meat.
Lightly season.
(you may need to readjust this at the end) Turn the heat down to low and simmer covered for two to three hours.
Towards the end you may wish to remove the lid to thicken up the sauce.
(Alternatively you could use the slow cooker at this point, but you'd have two things to wash up) I serve this with bread or pasta, it really depends but I prefer fresh French bread with this.