IngridH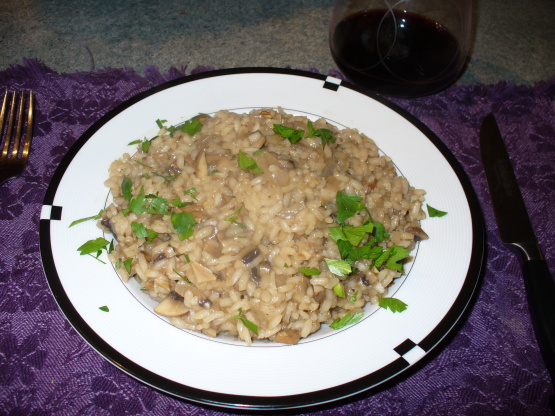 This is one of the first dishes I cooked when I first got married. 'Real' risotto seemed too complicated. This recipe is pretty easy. The ingredients are so simple, but the dish is delicious. I had trouble giving an amount for the mushrooms. You have to decide how strong you want the mushroom taste to be. I often sprinkle the dish with a bit of fresh chopped parsley just before serving.

Enjoyed this risotto. I had to use more broth. I think with some additional herbs/seasonings this could be five stars for sure.
Add oil, butter, onions and rice to a pot and slowly sweat until rice starts getting translucent.
Add broth. Any kind will be fine. Simmer on low. Keep checking to see if you have to add more broth or water.
Once the rice is done mix in the cheese and mushrooms.(If you chop them really fine, they will kind of melt into the rice and not taste raw). You might have to add a bit more broth or water.
Add salt and pepper, taste and adjust seasoning.