Annacia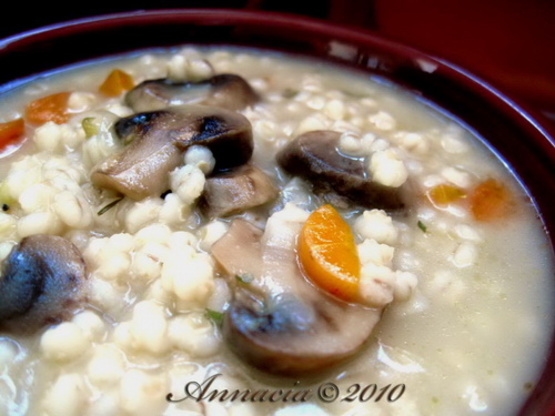 From the blog of Two Peas and their Pod. I made it and it was really good.

Made this tonight. Used all beef stock instead of water and veggie broth. Also deglazed pot with Marsala wine and cream sherry. It was good but missing something. Next time I'll boil the barley in beef stock and try de-glazing with red wine. But all in all not bad!
In a medium pan, bring 4 cups of water and the 1 cup of barley to a boil. Cover, reduce heat to medium-low, and simmer for 30-40 minutes, or until the barley is soft. You can make this the night before.
Heat the olive oil in a large pot over medium heat. Add the onion and garlic. Cook until soft. Add the carrots and celery and cook until tender, about 5 minutes. Add the sliced mushrooms and cook until they are soft. Add the vegetable broth, water, bay leaves, and fresh thyme. Simmer for about 10 minutes. Stir in the cooked barley and cook for 15 minutes or so.
Remove the bay leaves. before serving. Add salt and pepper to taste. Serve hot.