Tiggrr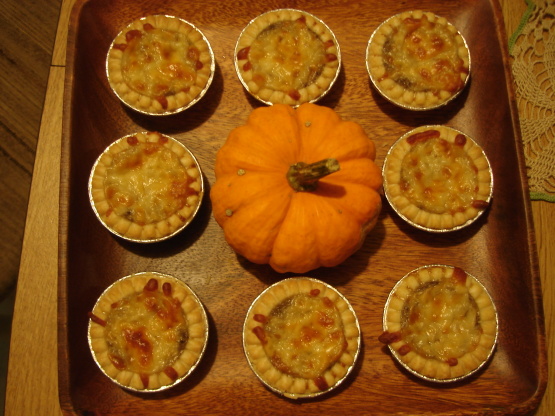 My friend Christine brought these to a Party at my house and she graciously shared the recipe with me. I served them the next week at a dinner party and had rave reviews. They freeze very well.

Top Review by Tiggrr
Was about to post this recipe then found it here. This recipe comes from the cookbook Anna & Michael Olsen Cook at Home. Exact same ingredients(except they call for 2lbs of mushrooms) and directions. They have wonderful flavour & presentation for any special event. May be baked in advance, chilled & reheated in a 325F oven for 12min. Michael puts in the book that you can also had a few drops of truffle oil in the mushroom mix prior to filling the tarts. He says the scent as the bake will drive everyone crazy!
Chop mushrooms in a food processor until finely minced.
In a large saute pan over medium heat melt butter add mushrooms and onions.Cook stirring often until mushrooms are soft and all the liquid has evaporated.
Stir in garlic and thyme and cook 1 minute longer.
Remove from heat and season to taste. allow to cool.
Preheat oven to 375.
Whisk eggs and cream together and add to cooled mushroom mixture.
Spoon mushroom filling into tart shells and top with Asiago cheese.
Bake for 12 to 15 minutes, until pastry is browned and filling puffs up a little.