Mum's Beef or Chicken Casserole
Ninna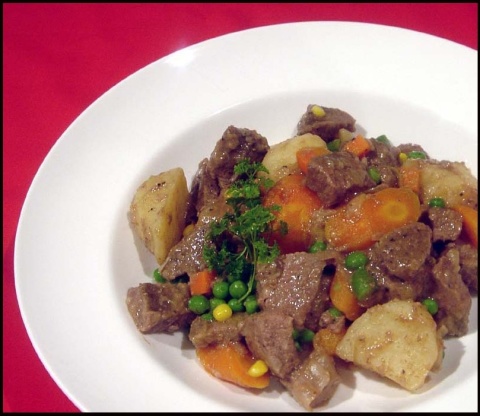 This was mum's basic casserole recipe. I made it with chicken tonight and it was a lovely old fashioned style casserole. I also cooked it on the cooktop as I was in a hurry and it only takes half the time. Update: 12 Oct 06 I have just posted a photo of the beef casserole that was cooked in the oven.

Hubby, who couldn't wait until dinner and had a pre-taste, said: Now THIS is how food should taste! No namby pamby, just honest food. This is what every man wants to come home to. When we sat down for dinner all I heard was contented grumps, mmmmm, and noises alike. This is just wonderful. Good comfort, very tasty casserole. Used skinless, boneless chickenthighs. Did not need any extra salt and just added a little ground pepper. Your Mum could sure cook. I am extremely pleased to have found this recipe and you can be assured that it will be made many many times. Don't change a thing, Hubby said, and I won't. Thanks so much for posting.
Roll meat in flour and add to casserole dish along with onions, sauces, seasonings and water with stock cube.
Add potatoes, carrots and beans and cook covered in oven at 180degC (350degF) for 40 minutes, then add peas and cook further 20 minutes, stirring occasionally.
NB; Mum added 1 teaspoons of vegemite for more flavour and to darken the gravy - substitute with similar product if you wish.