Mrs. Field's Soft and Chewy Peanut Butter Cookies
roweena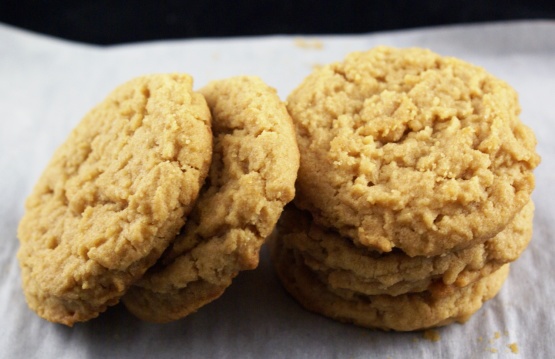 OMG.. GREAT COOKIE.Im not a big peanut butter lover but these were outstanding.. I dont know what some of you were doing wrong but mine came out perfect, i did use 2 1/2 cups of flour, a whole 16 oz jar of crunchy peanut butter and a half teaspoon of baking powder. They baked for 18 minutes exact. I got almost 5 dozen out of the recipe and they were very chewy and thick. the family loved em. I will never make another peanut butter cookie recipe, This is my go to recipe.
Preheat oven to 300 degrees F.
Mix dry ingredients and set aside.
On medium speed, in large bowl, blend sugars; add butter, mix till grainy consistency. Add eggs, peanut butter and vanilla extract; beat till fluffy. On low speed, add flour mixture until barely mixed into butter mixture.
Drop by rounded tablespoonsful, 2 inches apart on ungreased cookie sheet. Use a wet or flour coated fork to gently press a crisscross pattern on top of each cookie.
Bake until the edges of the cookies are lightly browned, approximately 18 to 20 minutes. Remove to cool on a flat surface.