Moroccan-Spiced Pastitsio With Lamb and Feta
sheepdoc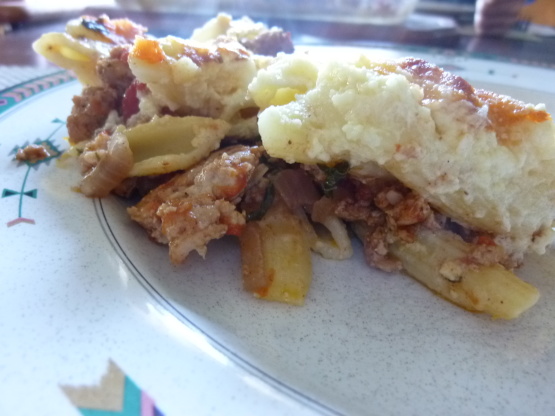 DH and I enjoyed this nice twist on pastitsio last night for dinner. It gave me a good excuse to use up some of my ras-el-hanout spice that I have in abundance. I liked that there was very little prep involved in this recipe. I got it from the March 2011 issue of "Bon Appetit." Prep time does not include resting time.

This was great. I was kind of expecting Moroccan chili-mac but this was way better. I didn't have dried mint so used fresh. Made 1/2 recipe in 11x7 pan. Made meat mixture and cheese sauce the night before and reheated everything before assembly, cooked for 40 minutes. Made for ZWT9.
Heat oil in large skillet over medium-high heat. Add onion and garlic; saute until onion softens, about 5 minutes.
Add lamb; cook until brown, breaking into small pieces, about 8 minutes.
Stir in tomatoes with juice, mint, ras-el-hanout, tomato paste, 2 1/2 tsp cumin, and cinnamon. Bring to boil. Reduce heat to medium-low. Simmer until lamb mixture is thick, stirring often, 15 to 18 minutes. Season with salt and pepper.
Meanwhile, bring 2 cups milk to simmer in medium saucepan. Remove from heat; cover to keep warm. Melt 6 Tb butter in heavy large saucepan over medium heat. Add flour; whisk until smooth. Reduce heat to medium-low; cook until roux is pale golden, whisking often, 3 to 4 minutes. Gradually add warm milk to roux, whisking until sauce is smooth.
Whisk 1 cup milk and 3 egg yolks in medium bowl; whisk into sauce. Whisk in feta and 1/2 tsp cumin. Bring sauce to boil, whisking often. Reduce heat to medium-low; simmer until slightly thickened, mashing with potato masher to break up cheese, about 5 minutes. Season sauce with salt and pepper. DO AHEAD: Can be made 1 day ahead. Cover; chill. Rewarm over low heat, whisking often, before using.
Preheat oven to 400°F Butter deep 14-cup (we used 9x13") baking dish. Cook pasta in large pot of boiling salted water until tender but still firm to bite, stirring occasionally. Drain pasta; return to same pot. Mix 2 Tb butter into pasta. Add egg whites and 1/4 cup Parmesan; stir to blend.
Spread 4 cups pasta in dish. Spread lamb mixture over. Top with remaining pasta. Spoon sauce over; sprinkle with 1/4 cup Parmesan. Place dish on rimmed baking sheet. Bake pastitsio until heated through, about 40 minutes. Let stand 5-10 minutes.