Ck2plz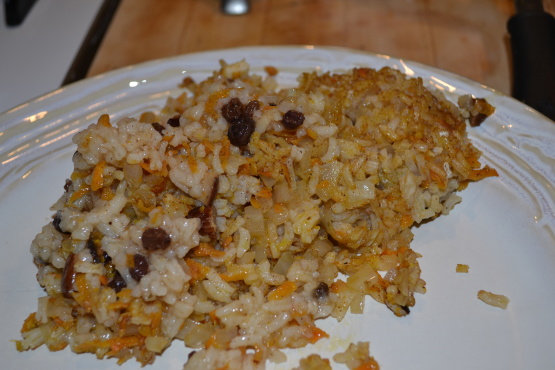 Based on a recipe from Sheila Lukins cookbook, The New Basics. She says of this recipe, "The North African flavorings will make this pilaf the star of a meal."
This is probably the best rice dish I have ever made! I made this for a group of friends and they all raved about it. I only used half an orange zest as mentioned below in other comments but i think i could have used the whole orange. I made the rest of it the same as the recipe and don't think anything else needed changing.
Preheat oven to 375 degrees F.
Lightly oil a shallow 1 1/2 quart ovenproof casserole.
In a large skillet, heat oil. Saute the almonds over medium heat until browned and fragrant, 3 minutes. Stir in the onion, carrot, and cinnamon. Cook 3 minutes.
Add the rice and cook, stirring,until translucent, 1 minute.
Stir in the stock, currants, orange zest, and cayenne pepper. Bring to boil; remove from heat.
Transfer the mixture to the prepared casserole and bake, uncovered, until the liquid has been absorbed and the rice is tender, about 45 minutes.
Garnish with chives and serve.