Moroccan Chicken With Dried Fruit and Olive Topping
mikey ev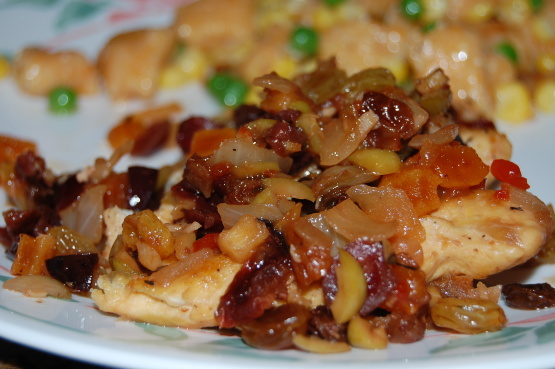 From Cooking Light. Great sweet and salty mix! To cut down on the sodium, I reduced the amount of salt and replaced half of the chicken broth with water. I used about 1/2 green olives and 1/2 kalamata. Plus the dried fruit adds fiber to this meal!

This was absolutely WONDERFUL! The mixture of flavors was amazing! For the fruit, I used currants, golden raisins and cranberries. Served it on top of some faux couscous with the chicken - which was moist - and we had a terrific meal! Definitely a keeper! Biggest downside was that the kids didn't all enjoy it like I thought they might - they're pretty adventurous, but only one loved it.
Heat 2 teaspoons oil in a large non-stick skillet over medium-high heat.
Sprinkle salt, pepper, and thyme evenly over chicken.
Add chicken to pan; cook 4 minutes on each side or until done. Remove from pan; cover and keep warm.
Heat remaining 1 teaspoon oil in pan.
Add onion to pan; saute 2 minutes until tender.
Add garlic to pan; saute 30 seconds.
Add remaining ingredients to pan (fruit, wine, broth, olives, salt, and pepper); cook 5 minutes or until liquid almost evaporates.
When there was still some liquid left in the pan, I threw the chicken back in to warm through and soak some of the flavor.