Monkey Bread from Scratch
fawn512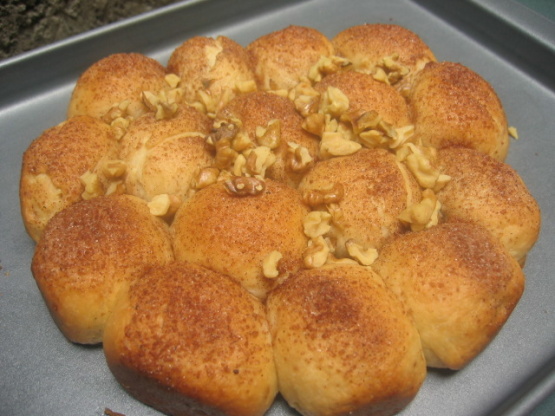 Allmost all recipes of Monkey Bread in zaar require refrigerated biscuits cans which i could not find in kuwait.. so i tried my mom bun recipe and it worked.

I think the dough is a bit oily, and not much taste after bake if without the cin/sugar/nut/butter topping. Rounded the dough into 16 rounds. I use abt .5 oz of butter just to brush the rounds, and then sprinkle the cin/sugar (didn't use all the amount in recipe). Baked mine in 9" round cake pan for 47min (just until the top browns). The bread came out hard the next day though
Dissolve yeast in cup of warm water with the sugar in large mixing bowl, let stand 5 minutes.
Mix with ingredients (4, 5, 6, 7) and beat well with mixer.
Oil a large bowl, turn so both sides are oiled, cover with wax paper till doubled in size.
Punch down, form into rolls, roll it with ingredient (8, 9) (cinnamon + sugar) and place it on greased flat round pan let rise until double in size.
Prepare the topping sauce . in sauce pan melt the butter on medium heat add the sugar and cinnamon and let dissolve . don't over cook.
Spoon the sauce over the rolls and spread with chopped pecan or walnut .
Bake in preheated 375 for 12-15 minutes.