Mom's Yakisoba(Japanese fried noodles)
Parsley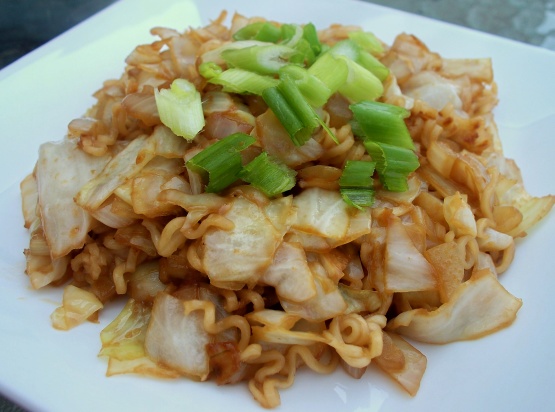 My Mom and I created this after being stationed in Japan and eating Yakisoba from the street vendors. This is not exactly the same-but a good substitute

Top Review by Lorac
Warning this could be addicting! DH and I just wanted something simple for dinner tonight and this was perfect. I doubled the recipe, added 1 lb of ground pork and saved some of the noodle cooking liquid to add a little extra flavor. I had visions of having leftovers for breakfast, - it's gone not a single noodle left.
1

package ramen noodles

2

cups thinly sliced cabbage

1

cup thinly sliced onion

2

tablespoons cooking oil, divided

1

teaspoon ginger powder

1

teaspoon sesame oil
Boil noodles in just enough water to cover, including seasoning packet.
Saute cabbage and onions in 1 T cooking oil.
when noodles are limp, drain and add to skillet with cabbage and onions with remaining oil.
Stir to mix and fry noodles.
Add remaining ingredients, toss to mix.
Serve hot.
Serves two.
Can be doubled and can add leftover meat like steak, pork, or chicken to make a complete meal.