Mmmm Easy Shrimp in Alfredo Sauce
2Bleu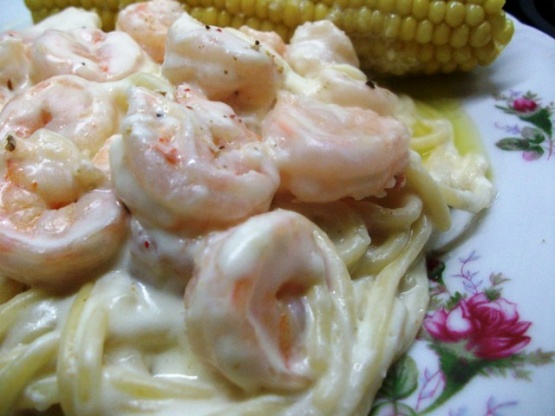 This comes together fast after peeling the shrimp - in the time it takes to cook the pasta the meal is ready! It probably could serve 4 if antipasto & dinner salad is served - crusty warm chunks of Italian bread are de riguer to sop up the sauce - you will want ALL of it!

I enjoyed this shrimp dish and it was very filling. I would have liked to have it with more spices such as a bit of garlic powder or more crushed red pepper flakes than what Bird put in it (as I love spicy). Overall, this is a good dish. Thank you for posting.
Put your pot of water on to boil your favorite pasta.
Peel & devein shrimp while melting 1 tablespoon butter & 1 tablespoon olive oil over low heat in skillet large enough to hold the shrimp.
Press 2 cloves of garlic into butter/oil mixture & gently sauté, low enough heat not to brown garlic.Add cayenne & salt to skillet.
Add shrimp & raise heat enough to hear the shrimp sizzle. Sauté 5 minutes stirring often or until the shrimp begin to turn opaque and brighten - but not until they become white and firm yet.
Take off heat & mix in the parsley and pepper.
Melt the remaining butter in a 1 quart saucepan. Add the cream & evaporated milk. Reduce the mixture by 1/3 over medium heat, stirring constantly (I use a smaller sized whisk for this). It will boil & that is OK - just keep stirring!
Add the cream cheese in 3 or 4 chunks & stir until melted.
Add the nutmeg & the Parmigiano, stirring well.
Pour thickened sauce over shrimp in skillet & simmer a few minutes on low heat while you drain your pasta. Use some of the sauce to dress the pasta, then serve with additional sauce & plenty of shrimp.