Jubes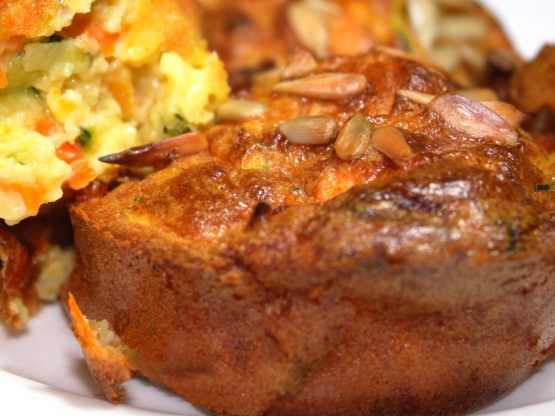 I found this among my printed out recipes from last year. I have no idea now where it came from as I had cut it to fit in my folder. They are very easy to make and are great for lunch boxes. They also go well with a salad for a tasty lunch/brunch or supper. **Note I use non stick metal muffin pans which I give a light quick burst of rice bran oil cooking spray, (from a can).

I hosted a brunch for the morning after my friend's daughter's wedding. I made these cute vegetable frittatas among several other dishes. I only got a taste of my daughter's, as many guests went back for seconds and thirds on the frittatas. Yum! My kids have requested that I keep a batch frozen for them to grab as a quick breakfast/snack on the go. I'm going to try making them next time by substituting apple sauce for the oil, as some have suggested in the reviews.
Pre heat the oven to 180'C.
Saute the onion in the 2 teaspoons of oil over med heat until soft.
Place the grated carrot & courgette into a large bowl. Add the cooked onion, cheese, corn, flour, baking powder and salt.
In another bowl combine the second measure of oil with the eggs.
Pour the egg mix into the vegetable mixture and mix lightly.
Spoon into 12 lightly greased muffin pans.
Sprinkle with the seeds and bake in a moderate oven (180'C) for 30 minutes.
Remove from oven and remove from pans. Either eat while hot or warm or, cool and use in packed lunches.