Mini Oreo Surprise Cupcakes
Redsie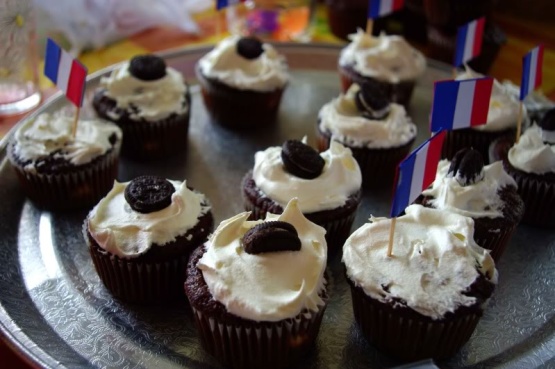 from kraft. Recommends Cool Whip for the icing but I think regualar icing might be a touch better. The new aerosol cool whip can would make frosting these a breeze!!

Top Review by Nikoma
I'm incapable of just making normal cupcakes lol I have to find "fun" cupcake recipes. Made these for a birthday get together and they were fabulous. Instead of plain old whipped cream I made my own whipped cream frosting useing Recipe #39013 Made half vanilla and half chocolate. Thanks for a simple and fun cupcake Jennygal!
HEAT oven to 350°F Prepare cake batter as directed on package; spoon 1/2 evenly into 24 paper or foil-lined muffin cups, filling each cup about 1/2 full.
Beat cream cheese, egg and sugar until well blended. Top each with about 1-1/2 teaspoons of the cream cheese mixture and 1 cookie. Cover with remaining cake batter.
BAKE 19 to 22 minute or until toothpick inserted in centers comes out clean. Cool 5 min.; remove from pans to wire racks. Cool completely. (There may be an indentation in top of each cupcake after baking.).
FROST cupcakes with COOL WHIP. Garnish with remaining cookies.