Prep 1 hr 30 mins
Cook 22 mins
I got this recipe from Taste Of Home magazine. I'm digging out my apple recipes, since it's getting to be apple season here. These are really yummy little pastries! Be sure and hide some for yourself, because they will disappear quickly. Prep time includes refrigeration time.
Directions
In a mixing bowl, beat cream cheese and butter until smooth.
Refrigerate the egg white.
Beat the egg yolk and 2 tablespoons water into cream cheese mixture.
Gradually beat in flour until well blended.
Shape pastry into a ball.
Cover and refrigerate for 1 hour.
Meanwhile, in a large skillet, toss apples with sugar and cinnamon.
Bring to a boil.
Reduce heat; cover and simmer for 8-10 minutes or until apples are tender.
Remove from the heat.
Turn the pastry onto a lightly floured surface.
Roll to 1/8-inch thickness; cut into 4-inch circles.
Top each circle with apple mixture.
Brush edges of pastry with water; fold pastry over filling and seal edges well.
In a small bowl, whisk egg white and remaining water; brush over pastry.
Sprinkle with additional sugar, if desired.
Place on greased baking sheets.
Bake at 375 degrees for 18-22 minutes, or until golden brown.
Remove to wire racks to cool.
Serve with ice cream, if desired.
Most Helpful
I followed the recipe to the mark... They did not come out golden but they did come out perfectly after I doctor'd it up a bit. I added 1/4 of pure maraschino cherry juice right after I turned the heat off and mixed it a little and let it sit while I prepared my pastry work area. I also brushed softened butter on the top after they'd been out of the oven for a few minutes and sprinkled cinnamon sugar on top. Superb! I didn't give it 5 stars because I still think they could be better. I'll keep trying!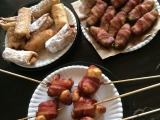 The cream cheese really gives this a distinct taste...yum, yum. I actually only used the dough portion of this recipe and used some homemade apple-pie filling I had in the freezer. I made these for a Homeless Dinner around Thanksgiving & used the leftover dough to make mini ones (or tasters) for my family. After trying them my hubby suggested a drizzle glaze for the top which I am trying now (the next day b/c my fam was disappointed in only gettin 2 mini ones apiece...lol). Thank you for a wonderful base recipe...I'm sure the actual recipe is amazing too...judging by the portion I used! <3

the dough was a lot easier to work with than other pastry doughs i have worked with and i loved that it was still tender after baking. yum! ran out of apples with about 4 left to fill so i whipped up a blueberry filling. i'm sure i will use this recipe for many things!