MILKY WAY Lover's Pound Cake
SharonChen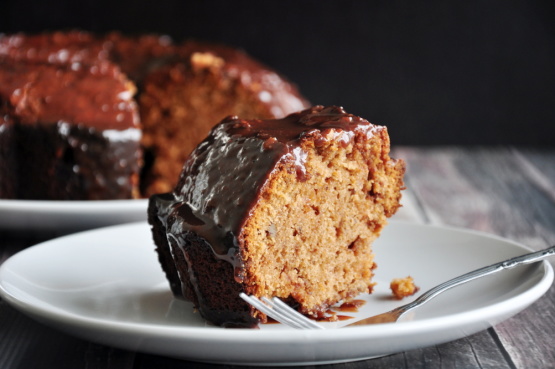 This cake takes a little bit of extra effort but it is worth it! If you like Milky Ways, you will like this :) It comes out looking and tasting like a "professional bakery" cake, but better.
This cake was such a special treat!!!! Yes, it took me some effort to make it but it was totally worth it! The flavor and texture were excellent!! Chocolatey, nutty, sweet and moist! Great for holidays! A side note - please make sure you grease your bundt pan with oil/butter/shortening then flour before you pour mixture in. This will help remove the cake from the pan easily after baking.
Preheat oven to 350 degrees.
Combine candy bars and 1/2 cup butter in a saucepan; melt over low heat (or use microwave).
Cream sugar with remaining butter.
Add eggs, one at a time, beating well after each addition.
Stir together flour and baking soda and add alternately with buttermilk to creamed mixture; beating until smooth.
Add melted candy/butter and mix well.
Stir in vanilla and nuts.
Pour into greased and floured bundt or tube pan and bake for 75 to 80 minutes.
Cool and frost with Candy Frosting, if desired, or any frosting you prefer.
Decorate with bite sized Milky Ways if you want to get fancy!
Candy Frosting: Melt candy bars with butter in saucepan or microwave.
Add sugar and vanilla.
Blend in just enough milk to make spreading constistency (start with just a tablespoon or so).