Microwave Corn on the Cob
gailanng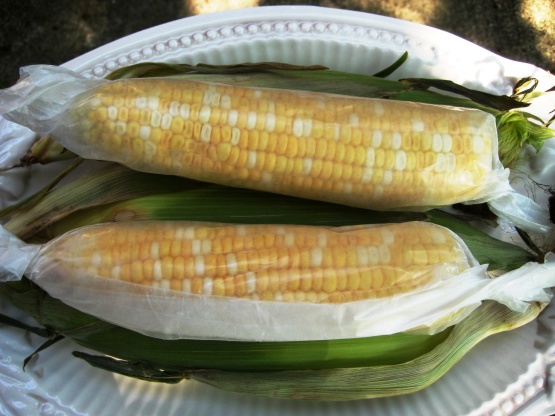 Simple and quick. Different from the other recipes in that the corn is wrapped in wax paper. Adjustable to any reasonable amount of corn. Would be ideal for someone cooking for one or two. From Kraft Food + Family. The butter is listed as an optional ingredient since you really don't need it, but I enjoy melting a huge blob of it on my corn after it's done :-)

I've done corn this way for about 25 years. I first I rub the corn with butter, salt it, and then wrap it in the waxed paper & microwave it. This way it is seasoned and waiting for you to eat it upon serving it. It's simple and easy - tastes GREAT!
Shuck fresh corn. Wrap each ear in wax paper.
Microwave for 2 minutes per ear of corn. (For 4 ears, 8 minutes.) Remove from microwave, open carefully, and enjoy. I like to top mine with salt and butter, the magazine suggested a sprinkle of Parmesan cheese and lime juice.
To keep them warm awhile, leave wrapped and cover with a kitchen towel :-).