Who doesn't love cookies with their coffee. Why not coffee in your cookies? Yield will depend on the size you make the balls.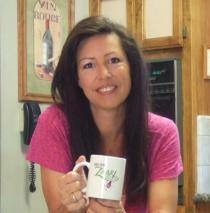 These little cookies are delicious! Loved the coffee flavor throughout. I used Chocolate Graham crackers 1/4 cup of light corn syrup and 1/4 cup of Sugar-free Honey to lesson the calories a bit. These were gone in a flash. Next time, I'll double the recipe and hide them for myself ;) Thanks for sharing another *Keeper* ~V
1

(9 ounce) box chocolate wafers
1⁄2 lb ground blanched almond
1⁄3 cup unsweetened cocoa powder
1⁄4 cup white sugar

2

tablespoons instant coffee
1⁄3 cup coffee liqueur
1⁄2 cup light corn syrup
cinnamon sugar, for rolling
Crush chocolate wafers into crumbs.
Mix with ground blanched almonds, unsweetened cocoa powder, and sugar.
Dissolve instant coffee in coffee liqueur and stir into crumb mixture with the light corn syrup.
Shape into small balls and roll in cinnamon sugar.
Store in refrigerator.