vrvrvr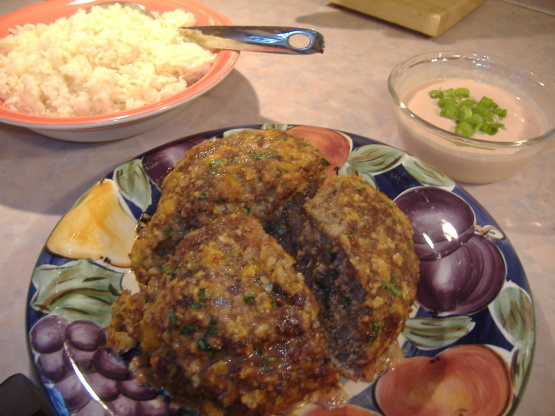 This is a wonderful tasting meatloaf that has a Mexican twist.

Top Review by vrvrvr
This was a delicious meatloaf. For me, the 90% lean ground beef was perhaps a little too "prime" and the texture was somewhat dry. That made the salsa/sour cream sauce very key. For the meatloaf, I used crushed tortilla chips in place of the oats. I also used about 1/4 c. fresh parsley, and added salt, pepper and an egg. For the sour cream sauce, I found that 2 T. made it plenty rich and creamy. (I think 6 T. would be way too much). My salsa was very chunky so I whirled it in the mini-food-processor. We all enjoyed a southwest twist to meatloaf. I served it with cornbread, salad and rice. I just free-formed it in a baking dish (didn't use a loaf pan). It browned nicely and tasted wonderful with the sauce!
Preheat oven to 350ºF.
Spray a 9x5" loaf pan with olive oil flavored cooking spray.
In a medium bowl, combine 1/2 cup salsa and sour cream.
Refrigerate.
In a large bowl, combine meat, oats, remaining 1/2 cup salsa, parsley flakes and cheddar cheese.
Mix well to combine.
Pat mixture into prepared baking dish.
Bake for 45 to 50 minutes.
Place baking dish on a wire rack and let set for 5 minutes.
Cut into 6 servings.
Serving size (1 slice) When serving, top each piece with 2 tablespoons sour cream mixture.
Healthy Exchanges: 2-2/3 Protein, 2/3 Bread, 1/3 Vegetable, 15 Opt.
Cal.
Diabetic Exchanges: 2 1/2 Meat, 1 Vegetable, 1/2 Starch/Carbohydrate WW- 4 Points per serving.