Mesir Wat (Ethiopian Red Lentils)
Rita1652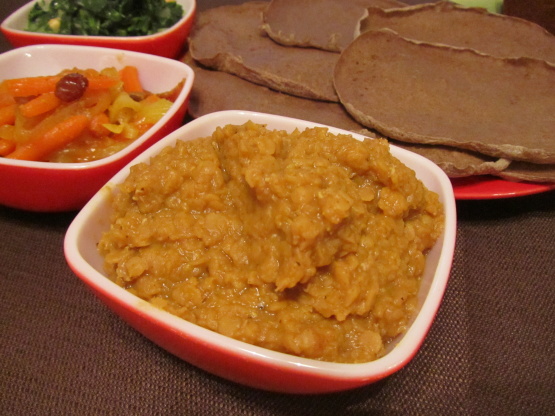 This is from whats4eats.com. I haven't tried it yet. You can also use butter or niter kibbeh (spiced butter) instead of the olive oil. Serve with injera. You tear off a small piece of it and use that to scoop up the mesir wat. If you can't get ahold of injera and just want a healthy lentil dish, you could always put it over rice.
Puree onion, garlic, and ginger in a food processor or blender.
Heat oil, butter or niter kibbeh in a large, heavy-bottomed saucepan. Add turmeric, paprika and cayenne pepper and stir rapidly to color oil and cook spices through, about 30 seconds. Add onion puree and sauté on medium heat until excess moisture evaporates and onion loses its raw aroma, about 5-10 minutes. Do not burn.
Add lentils and water. Bring to a boil and simmer till lentils are cooked through and fall apart, about 30-40 minutes. Add water if necessary to keep from drying out. This should be the consistency of a thick paste so that it can be scooped up with injera.
Stir in salt and pepper to taste and serve.