Melt in Your Mouth Tea Cookies
Lainey39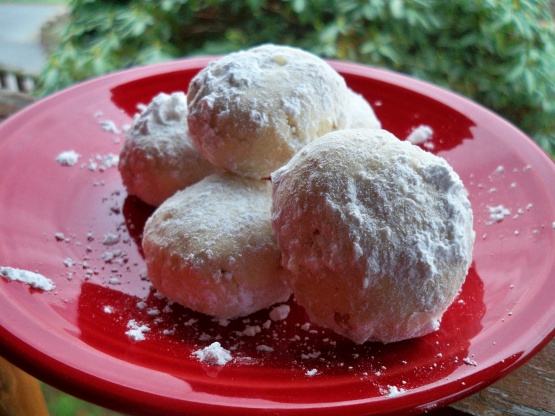 These simple cookies will melt in your mouth and will look pretty too. This is one of my mom's favorite Christmas cookie recipes that I found in her Baking is Fun! cookbook from 1948 (the cookbook has a $.25 price on it). The book calls these "Holiday Nuggets" which doesn't sound too appetizing to me, so I have renamed them. I hope you love them as much as I do!

Cream the shortening, butter and sugar together.
Blend in the vanilla, almond extract and nuts.
Sift together flour and salt, adding it to wet ingredients and mixing until dough is smooth and well blended.
Shape into small balls (1 tbsp of dough for each).
Place balls on ungreased baking sheet and flatten bottoms just enough so they won't roll.
Bake at 325 degrees for 20-25 minutes.
Roll cookies in powdered sugar after baking.
Option: If desired, top with colored sugar, coconut or more nuts before baking and then don't roll in powdered sugar after baking.