Melanie's Rich and Creamy Green Chili and Corn Tamales
jabs850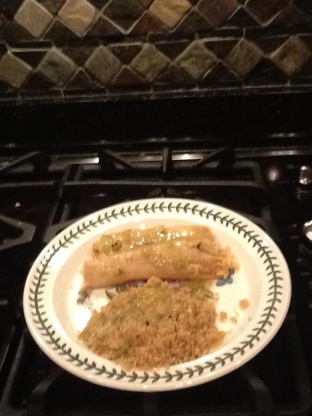 I actually just finished making this dish for my Next Food Network Star audition video. I think Karma was on my side today because it came out better than ANY batch of tamales I ever made.
Do all prep work with the corn and green chilis.
Clean and rinse the corn husks. Place in a large bowl and soak in hot water for about 30 minutes.
Make the masa by mixing together all of the masa ingredients with a mixer. The consistency should end up similar to a chocolate chip cookie dough, slightly wetter.
Make the filling by stirring together all of the filling ingredients in a large bowl.
Spread masa in center of each corn husks. Sometimes you may need to use two corn husks to make it wide enough. I like my tamales to be very thick and large, so you want to spread it into a rectangular shape approximately 6 inches by 3-4 inches, depending on the shape of your corn husks.
Place a spoonful of the filling in the center of the masa in each corn husk.
Roll like a burrito, ensuring the filling is sealed on all sides with masa.
Place in a steamer and cook the batch together for approximately 45-60 minutes. You want the masa to be cooked but not overcooked. It will still appear a bit wet when tested, but not stick to the corn husk.
Serve with a bit of shredded cheese, fresh scallions, and cilantro -- and sour cream if you desire!
Enjoy!