Green Corn Tamales
photo by Barb G.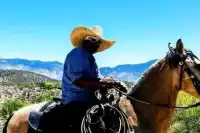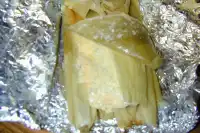 Ready In:

1hr 50mins

Ingredients:

10
directions
Cut both ends of the corn, remove husks and save for wraping,(Put husk in water), cut corn kernels off the cob, use a spoon and scrap corn cobs.
Place corn kernels in food processor, grind, Add cornmeal and grind together, set aside.
Beat shortening and butter with electric mixer until creamy, add sugar, half and half and salt; ADD corn mixture and mix well.
FOR each TAMALE, overlap two or more corn husk and spread some of the corn mixture onto the husk.
Place one cheese strip and chile strips(I used about 1/2 of a whole chile in each tamale without seeds, seeds makes then HOTER your choice).
Top with MORE corn mixture; Bring edges of husk over OR add another husk on top, to cover filling complety, Bring bottom of husk over tamale.
Wrap in foil,lay tamale on foil, bring one side over, bring up the bottom, then bring other side over leaving top open.
Place tamales upright in a steamer or large kettle with steamer basket in bottom.
Steam for 45 to 50 minutes, enjoy.
Reviews
I love green corn tamales, but making the tamales takes so much time, particularly if you are working on your own. So, I adapted this recipe as a 'casserole'. I make everything as described, but I chop the chilies into bits and grate the cheese. Then, I line a dish with the corn shucks, pour the corn and chile and cheese mixture over it and layer with more corn shucks. Then, I put aluminum foil over the top. Cook at 350 degrees Fahrenheit for 30m min. I remove the foil for 5 more minutes. Folks seem to like it.

 

This is green corn tamales at it's best! And doesn't cost me an arm and a leg! I was going to order them from a place in Tucson, AZ. forget it!!! My sister wanted me to mail her some but this is the best I can do. The only thing I would change in the recipe would be 1/2 cup sugar and 1&1/2 cup of cornmeal Thank you so much for sharing your recipe. I"ll use it often. Rose