Sweet Corn Tamale Cakes the Cheesecake Factory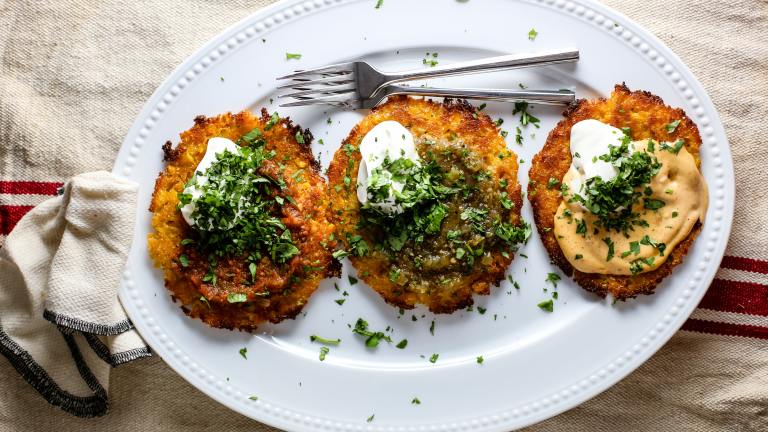 I am so glad everyone loves these as much as I do! I have made a few changes to clarify how to prepare them to look like the cheesecake factory, but as everyone has found out, being pretty doesn't effect the taste! Thank you again everyone!! I know this seems like a really hard recipe but it really isnt, alot of the ingriedients are used more than once. I usually make it by hand without a blender, and I consider it a just cause, a blender would make it even more of a snap! This is a copycat of The Cheesecake factory appetizer which is heavenly! I put 4 servings, its enough calories to feed 8 but really only enough to share greedily with 2. LOL
Ready In:

1hr

Serves:

Units:
ingredients
Salsa Verde

2

tomatillos, diced

4

ounces mild green chilies, drained and diced

1

green onion, minced

2

tablespoons fresh cilantro, minced
1 1⁄4 teaspoons granulated sugar
1⁄4 teaspoon ground cumin
1⁄4 teaspoon salt

1

pinch ground black pepper

For Tomato Salsa

1

medium tomatoes, diced

1

tablespoon minced Spanish onion

1

tablespoon fresh cilantro, minced
1⁄4 teaspoon lime juice
1⁄2

small jalapeno, seeded and minced

1

dash salt

1

dash ground black pepper

For Southwestern Sauce

1⁄2 cup mayonnaise

1

teaspoon white vinegar

1

teaspoon water
3⁄4 teaspoon granulated sugar
1⁄2 teaspoon chili powder
1⁄4 teaspoon paprika

1

pinch cayenne pepper

1

pinch onion powder

1

dash salt

1

dash garlic powder

For Cakes

1 1⁄2 cups frozen sweet corn
1⁄2 cup butter, softened

3

tablespoons sugar

1

pinch salt
1⁄2 cup corn masa harina flour (corn flour)

2

tablespoons all-purpose flour

For Garnish

1⁄4 cup sour cream
1⁄2 avocado, diced

2

tablespoons fresh cilantro, chopped
directions
Prepare salsa verde by combining all prepared ingredients. Chill.
Prepare tomato salsa by combining all prepared ingredients. Chill.
Prepare southwestern sauce by combining all ingredients. Chill.
Preheat oven to 400°F.
Prepare the tamale cakes by chopping 1 cup of the frozen corn in a food processor until it's coarsely pureed. Combine pureed corn with softened butter, sugar, and salt. Blend well.
Add masa and flour and blend well. Mix in the remaining 1/2 cup of frozen corn kernels by hand.
Measure 1/2 cup portions of the mixture and form it into 3" wide patties with your hands. Arrange the patties on a baking sheet and bake for 25 to 30 minutes or until the cakes are browned on the bottom.
Carefully flip all cakes with a spatula and bake for an additional 5 to 7 minutes or until other side is browned.
Assembly: Place all three cakes on a warmed serving platter. Dollop each with one of the three sauces. Garnish with diced avocado, cilantro and a dollop of sour cream.
Submit a Recipe Correction
RECIPE MADE WITH LOVE BY
"I am so glad everyone loves these as much as I do! I have made a few changes to clarify how to prepare them to look like the cheesecake factory, but as everyone has found out, being pretty doesn't effect the taste! Thank you again everyone!! I know this seems like a really hard recipe but it really isnt, alot of the ingriedients are used more than once. I usually make it by hand without a blender, and I consider it a just cause, a blender would make it even more of a snap! This is a copycat of The Cheesecake factory appetizer which is heavenly! I put 4 servings, its enough calories to feed 8 but really only enough to share greedily with 2. LOL"
Whenever I go to Cheesecake Factory it is only for the corn tamales so you can imagine how happy I was to find this recipe. I started cooking and trying recipe ideas for the past 3 years and felt confident enough to try this one and oh what a surprise I'm in love. The only issue I had was that it was not enough flour and corn flour. I'm a small corn cakes and I love all three of the sources I just want to make my sauce a little spicier. So sue me for wanting more heat. All in all this recipe is dead on and now I look forward to gaining 25 more pounds thank you to The Recipe Maker for making America fat again. LOL great job!