Cheesecake Factory Cheesecake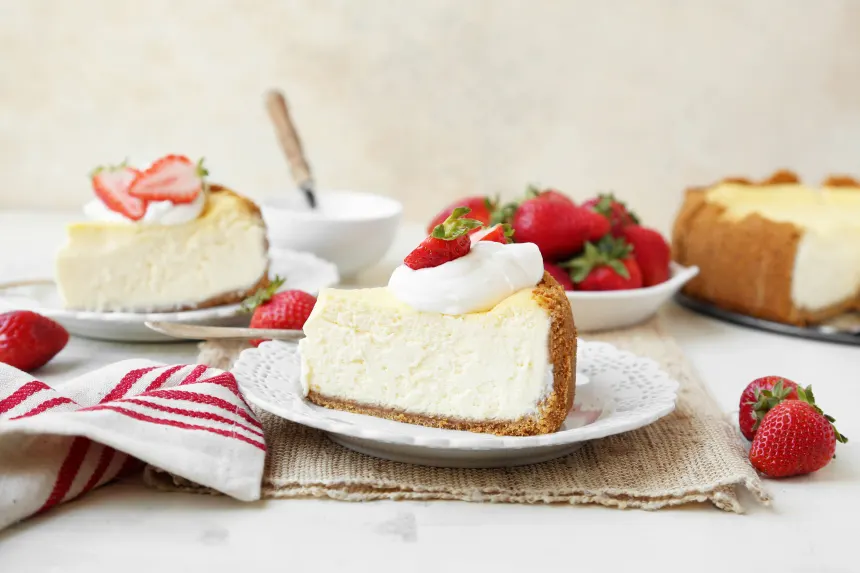 photo by Jonathan Melendez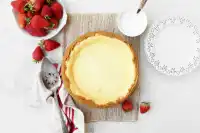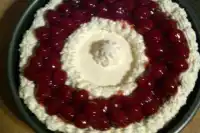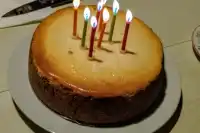 Ready In:

3hrs

Ingredients:

12
directions
Crust: Mix all nuts and vanilla wafer crumbs with melted butter and press into a 9 inch buttered springform pan, trying to line the sides as much as possible about 1 1/2" up the sides of the pan, set aside.
Cheesecake: All above ingredients should be at room temperature before your begin.
Start by beating the cream cheese until light and fluffy.
Keep the mixer on a low setting throughout the beating and mixing process.
Add the sugar a little at a time and continue beating until creamy.
Add one egg at a time and beat after each egg.
When eggs have been mixed into the cream cheese add flour, vanilla and lemon juice, mix well.
Add the sour cream last and beat well.
Pour cream cheese into the spring pan.
Place on the top rack in the middle of a 325 degrees preheated oven for one hour and 15 minutes.
When time is up, turn oven off, prop open oven door and leave in oven for one hour.
After one hour, remove from oven.
Let cool enough before the cheesecake is put into the refrigerator for 24 hours.
A cheesecake should season.
The wait is worth it.
The flavor ripens and becomes enriched.
Questions & Replies

Reviews
To minimize cracks, put a shallow pan of water on the bottom rack. Also, this style cheesecake is assuming a large 3" deep cheesecake pan, as opposed to a normal pie pan; a pie pan will hold way less and cook way faster. Also, make sure top rack is just above bottom rack, lower from the heating element is better. This helps keep the top light and even for almost every cheesecake recipe on the market.

 

This is the only recipe I use to make cheesecake, although I do make some alterations like doubling the crust recipe and putting the pan in a water bath to stop the cracks. I don't know why a reviewer said it's not as good as a Cheesecake Factory cheesecake. It's perfectly sweet and creamy if you follow the directions properly. Having ingredients at room temp is important and will make a difference in the cake's outcome. Beating sugar a little at a time and eggs one at a time makes a difference, too. If you rush to get this in the oven, you won't have as nice a cheesecake as you're expecting.

 

I made this cheesecake a few days ago... I actually used about three different recipes. I added vanilla bean to half and cocoa to half. Ended up with a very pretty cheesecake, topped it with caramel and chocolate to make it a turtle cheesecake. It's gorgeous and so good! <br/>About 15 minutes into baking it, I realized the sour cream was still sitting on the counter :(<br/>But it still turned out amazing! Thanks for a great recipe. I will make a gain.<br/>I also took a few other reviewers advice and doubled the crust.

 

If you've never had Cheesecake Factory you'll love it. If you have, it won't measure up. I also recommend you double the crust ingredients since I didn't and it nearly wasn't enough crust to accommodate all the batter. It does taste better with age, so allow 1-2 days before dipping in. Fluffy and all, but lacked a certain sweetness, creaminess and smoothness Cheesecake Factory Cheesecake has. My guests nor I were really impressed. Hit or miss for me.

 
Tweaks
I used 1/3-1/4 cup of Torani sugar free salted caramel syrup in place of the extract. I also make my crust using 1-3/4 c almond flour, 1/2 c swerve and 5 T melted butter. You don't need to but I bake it at 350 for 10 minutes then fill. Also, I put a parchment circle on the bottom of my springform pan - it makes it easier to put on a cardboard circle or plate/cake stand for service.

 

This is a great cheesecake. I substituted 1 1/2 cups of graham cracker crumbs for the vanilla wafers and nuts in the crust, and I used 1/3 less fat cream cheese instead of regular, but everything else was the same. It takes some time to make this, but it is well worth it. I served it with fresh strawberries; it was delicious.

 
RECIPE SUBMITTED BY
I'm an adoptive mom to 5 children, 3 of whom are grown. My 2 children still at home are 13 and 14 and are very picky eaters. Consequently, I spend more time collecting new recipes than actually cooking them. I probably have 3000 recipes sorted into my private cookbooks here on Recipezaar. I figured that my house could only hold so many cookbooks but not so when I collect recipes online. :) <br> <br>Speaking of books, I'm a voracious reader and I probably buy at least 10 books a week by swapping books on http://paperbackswap.com, http://bookmooch.com and http://titletrader.com. My husband, Mike, likes to build furniture and he regularly has to build me more bookshelves. :) <br> <br>I'm self employed as a Real Estate Agent. Nothing beats being your own boss! <br> <br>I used to be a missionary in Ethiopia and Haiti were I started and managed several orphanages and international adoption programs. I also created and did the computer programming for the Precious in HIS Sight Adoption photolisting at http://precious.org but sold it in 2005. <br> <br>I live in College Station, Texas. I'm originally from Houston, Texas and I'm one of the rare people who enjoys moving. We seem to move about every 4 years because of my husband's job (he works for Trane air conditioning). <br> <br>I'm very involved at my church mentoring inner city kids. I believe that the purpose of life is to glorify God and I do that by helping others and evangelism. My favorite Christian TV program is The Way of the Master with Kirk Cameron and Ray Comfort. Their website is at http://wayofthemaster.com. <br> <br>I love to travel and since my husband travels 2/3 of the time with his engineering job, our agreement is that I get to use his frequent flyer miles. We host foreign exchange students each year so my next trip will hopefully be to visit one of our former students in Korea. <br> <br>I love making new friends so drop me an email and say hi! <br> <br>Annette Thompson <br>annette@annettethomopson.com <br>--------------------------------- <br>What would you do if you knew you could not fail? <br> <br><a href=http://www.maploco.com/view.php?id=1981949><img border=0 src=http://www.maploco.com/vmap/1981949.png alt=Visitor Map></a><a href=http://www.maploco.com/>Create your own visitor map!</a> <br> <br><img src=http://img.photobucket.com/albums/v204/derf16/food%20photography%20series/Comfortstickercopysmall.jpg>
View Full Profile