I'mPat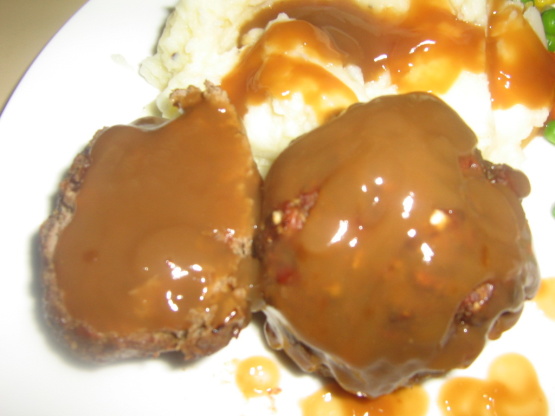 Top Review by I'mPat
A very good BASIC meatloaf recipe and I just love mini loaves and even better mini mini loaves (great as an appertiser). The only problem I had was what I though was an onion soup mix was creamy chicken so I added some onion powder and a finely diced shallot). I divided about 700g of lean minced (ground) beef into six muffin tin compartments which took 30 minutes to cook at 175C fan forced oven. Thank you Jubal Harshaw, made for PAC.
Preheat oven to 350 degrees.
Spray a muffin pan with veggie oil spray.
In a medium bowl, combine all ingredients well.
Press mixture evenly into muffin cups.
Bake for 25-30 minutes or until no longer pink inside.
Let stand 2 minutes before removing from pan.
Perfect portions and faster cooking!
Great for freezing!