Meatballs With Tomato Relish
jonesies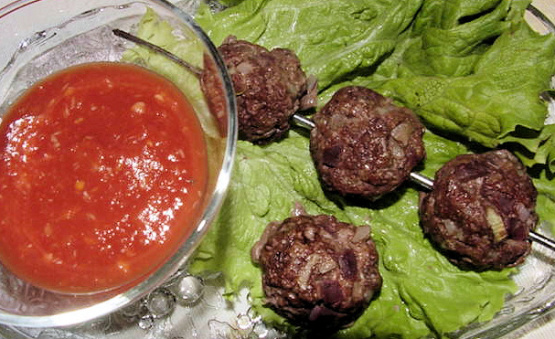 You can either purchase packaged lean ground beef or a whole piece of lean beef, such as rump steak, trim off all visible fat, and grind it yourself. Taken from "The Best Ever Low Fat" cookbook.
Preheat the oven to 450 degrees.
Make tomato relish by mixing the strained tomatoes and cremed horseradish together in a small bowl.
Cover and set aside until required.
Put the onion, garlic, and 2 teaspoons of water in a small pan and let simmer over low heat for 5 minutes.
Increase the heat, bring to a boil and cook until all the water has evaporated.
Remove from heat.
Meanwhile, teat the bread into pieces and place in a small bowl.
Add enough cold water just to cover and let soak for 5 minutes.
Squeeze the excess water from the bread and place in a bowl with the ground beef, onion and garlic mixture, beet, paprika, thyme and egg.
Season to taste with salt and pepper.
Mix thoroughly.
Form the mixture into 24 small balls between the palms of your hands.
Tread 3 balls onto each of 8 metal skewers and place on a baking sheet.
Bake in the preheated oven for 10 minutes, or until well browned.
Transfer to serving dish, garnish with few sprigs of fresh thyme if desired and serve with the tomato relish.