2Bleu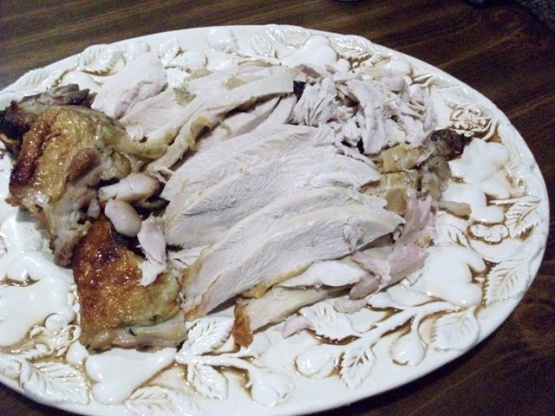 I adopted this recipe from Mean Chef. "Great brine for turkey or chicken."

Wow.. Mean Chef.. This was awesome! I used an oven stuffer roaster chicken. I put the brine and the chicken in a 2-gallon Zip Lock bag and then set it all in a soup pot to hold it in the refrigerator. I halved the recipe for the brine since I used a chicken instead of a turkey. This was the most moist chicken I've ever had. It didn't taste like I thought it would. I expected it to taste like teriyaki because of the ingredients in the marinade.. but IT DIDN'T! It was just so beautifully browned and delicious. I left it in the brine for 2 1/2 days and then let it sit in the refrigerator to dry for 1/2 day. I am certainly going to do this again. I think I'll even do my chicken pieces this way too. Thanks Mean Chef. :)
Combine all ingredients in large stainless steel pot.
Bring to simmer, remove from heat and cool completely Remove turkey neck and giblets.
Rinse turkey well.
Put turkey in cold brine.
Use a stainless, plastic or other non-reactive container.
Add water if brine doesn't cover bird.
Refrigerate 2- 4 days, turning bird twice a day.
To cook: remove turkey from brine, pat dry, brush with olive oil.
Either grill or cook in oven.
It is also advantageous to leave the dry turkey in the refrigerator for at least 4 hour or overnight, uncovered.
This completely dries out the skin to insure a crisp finish.
DO NOT stuff turkey.