Mean Chef's Apple Brine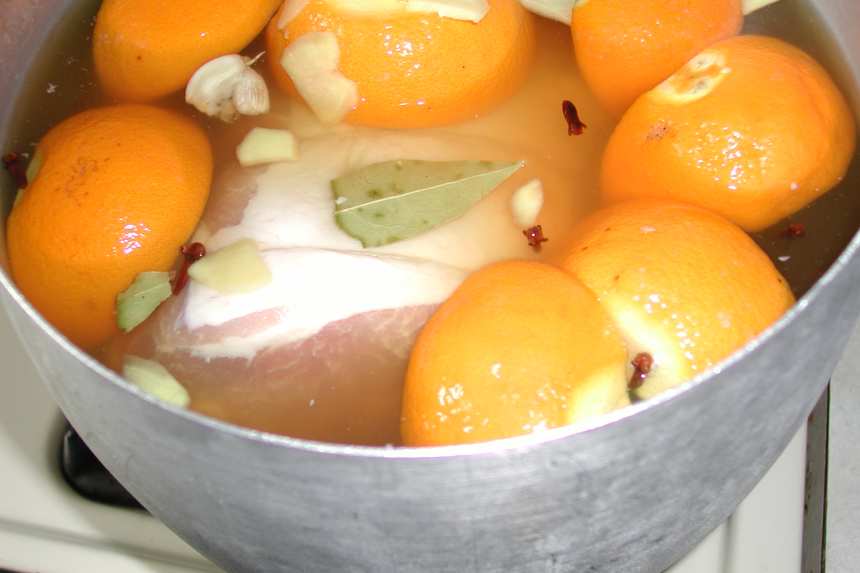 photo by Lennie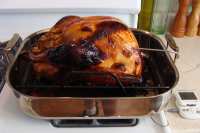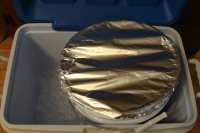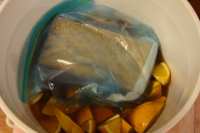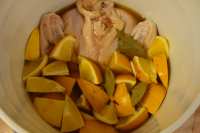 Ready In:

50mins

Ingredients:

9
directions
bring apple juice, sugar and salt to a boil over high heat, skim foam, let cool to room temperature.
Add remaining ingredients.
Brine turkey for 24 hours.
Quantity is sufficient for a 14 pound turkey.
Questions & Replies

Got a question?
Share it with the community!
Reviews
I've used this same recipe for the past two Thanksgiving dinners... it is easily the BEST turkey I have ever made. The flavor combination is incredible, not too strong, just a hint of sweetness and a lovely aroma from the citrus and ginger. I have skipped the drying-out-overnight process with no discernable difference in skin crispness... just make sure to dry the bird well. One note: The skin gets very brown because of the sugar in the brine... looks like a magazine cover! Just don't let that fool you into thinking the bird is done too early.

 

There's not much to say. This is my favorite brine, I use it on chicken and turkey and I believe it produces the best turkey you've ever had the pleasure of tasting. Try it. If you are using it for a chicken, just cut the recipe in half. It should be noted that I believe I gave this recipe to Mean, and that it came out of Weber's Art of the Grill cookbook, one of my favorite grilling books.

 

Finally, I know that I will never have to suffer through another dry turkey. We followed the recipe exactly, allowing our 19 pound turkey to sit in the brine for about 24 hours. We washed and dried the turkey and allowed it to sit for another 3 hours. We then cooked it in a clay pot following the cooking directions that came with the clay pot. The turkey was moist, the skin was a beautiful bronze color, and the ginger flavor was really prominent. The most astounding thing was the drippings that were in the bottom of the pot. Almost like a turkey demi-glace, it was thick and rich. We just skimmed off the fat, added a beurre manie and a bit of milk to tone down the salt. It made a terrific gravy. We'll be using this method, perhaps this recipe for years! Thank you for sharing.

 
Tweaks
First time brining a turkey for me and it came out excellent! I didn't have cloves. Our turkey was 22 lbs. so we used an ice cooler lined with foil and left it out on the deck for 24 hours. I doubled the brine mixture, but used 2 quarts of water instead of an additional 2 quarts of apple juice as I was afraid it was going to be too sweet. Well, the turkey was fantastic and the gravy was to die for! Just be sure to rinse very well and dry the turkey very good as well. Thanks so much for sharing this, I will use it again and again!

 

I guess I am going to be one of the few decenting voices in the long list of reviews for this recipe. I had expected something with a saltier taste, but got something mildly sweet instead. The flavors of the ginger, garlic, etc. didn't really come through, and yes, I brined for the full 24 hours before smoke roasting it. The only change I made was using black peppercorns in place of the cloves. Unfortunately, while the turkey was OK, I am not likely to try this recipe again. I think the next brine I make will be something simpler and less sweet. I guess I should mention I am not yet sold on brining, but this was my first time and I'll run several more exparaments before I decide if it is worth it or not.

 

Well, I just had to add my comments to everyone else's. This was the first time I brined anything and our Christmas turkey was wonderfully moist with a delicate flavor...Since it was just the four of us for Christmas dinner, and our turkey was more like an oversized chicken, I halved the recipe, used table salt instead of kosher salt, and used less ginger. As I was carving the turkey, I couldn't help snitching a piece here and there because it was so irresistible! My family loved it too and I know I want to brine more meats in the future! You made a brine believer out of me! Thank you, Mean Chef! :)