Mashed Potatoes With Creme Fraiche and Chives
Prep 40 mins
Cook 20 mins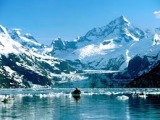 These mashed potatoes are creamy, fluffy and slightly tangy thanks to the creme fraiche. A ricer is used on the potatoes to make them really smooth, but you could always mash by hand. Simple goodness! From Food & Wine. *Note: the mashed potatoes can be made ahead of time and kept at room temperature for up to 3 hours. Reheat before serving. (You may need to add a bit more milk.)*
Directions
In a large pot, cover the potatoes with cold water and bring to a boil over high heat.
Cover and cook over med-high heat until the potatoes are tender to a fork, about 20 minutes; Drain.
Press the potatoes through a ricer (for very smooth mashed potatoes) into a large saucepan over low heat.
Meanwhile, in a small saucepan, combine the milk with 10 tablespoons of the butter and 1 tablespoon of salt and cook over medium heat until the butter is melted, about 3 minutes.
Pour the hot milk over the riced potatoes and cook over medium heat, stirring occasionally, until blended - about 2 minutes.
Stir in the creme fraiche, the remaining 2 tablespoons of butter and the chives and cook until the potatoes are heated through, about 5 minutes.
Season with salt and pepper and serve!
Reviews
Most Helpful
I love mashed potatoes, and these were tasty!! Great easy recipe. If you have no creme fraiche, sour cream will do. My kids really liked it and it is a nice alternative to plain mashed potatoes. And My seven year old grandson said of these potatoes, "It just eating a clouds." Everyone loved these silky smooth potatoes, and so creamy! Thank you for sharing this fantastic recipe! Happy Cooking to y'all!.....PRMR 2013 Grpa

Delicious, we made just have a recipe but it still made a lot. I followed your recipe exactly but it made my potatoes a little too loose. Next time I will add milk enough for the potatoes. Made for CQ2.

Yummy! I have at the moment lot of chives growing in my pot and I was happy to use some of it in this way. I opted to mash the potatoes simply with a fork, only for personal taste as I love more structure. I also reduced the butter as I'm really trying to eat with less fat as possible, but I did not want to strike out the butter as the taste of butter is unique. I think this can be done with all kind of mashed potatoes even if only using potatoes flakes! Thanks a lot for this delicious side-dish!