dojemi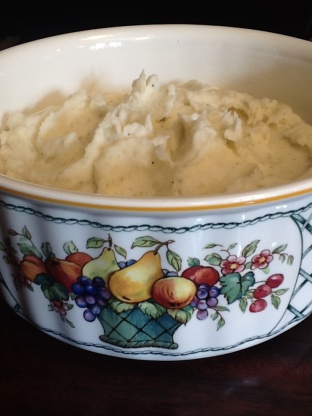 This is an excellant recipe that can be made the day before serving and reheated without any change in taste.

Yum! Very good. I thought it could use a bit more flavor. I added some peeled garlic cloves in with the potatoes to boil. I added 1/4 cup buttermilk and chives to the potatoes when mashing them. When it was time to uncover the potatoes, I topped them with freshly grated Parmesan cheese which made for a lovely golden brown top. Very tasty , will make again. Thank you for sharing!
Stir together the cream cheese, garlic salt, pepper and sour cream.
Set aside.
Peel and cut potatoes into chunks and boil till soft.
Mash (or with electric mixer) the potaotes till they are in fine lumps.
Add the cream cheese mixture and beat till fluffy and smooth.
Spoon into well buttered 2-quart casserole.
Dot with paprika.
Bake covered in a 400 degree oven for 25 minutes (if made the day before and refrigerated, cook for 50 minutes).
Uncover and bake 10 additional minutes to a golden brown.