Marinated Jamaican Chicken
Barb G.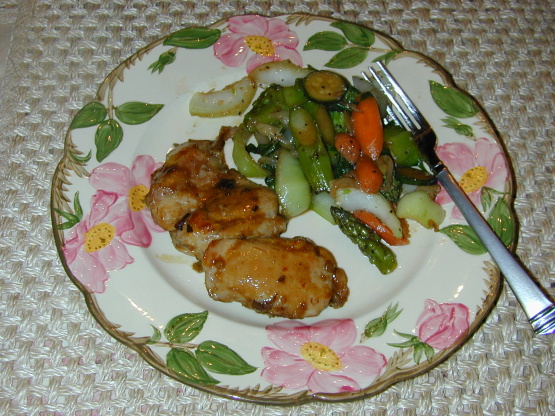 Although this is time consuming, this chicken is delicious. The marinade and glaze can be made ahead. Although this makes a lot of marinade and glaze any leftover (before adding the chicken) can be refrigerated in an airtight container for a later use. Recipe source: The Turtle Bay Cookbook.
Very tasty chicken. I used boneless skinless chicken thighs as this is what I had on hand. They were yummy. I used the Jamican spice recipe # 108351 as I had already made it some time back, It is so good. I made the recipe as stated, the marinade & glaze are both very good. Had left over glaze so will try it on pork. Thank you Ellie for a yummy recipe.
In a large saucepan combine the water with 1/2 teaspoon of the Jamaican spices (or use my recipe for Jamaican Spice Mixture recipe #108351, ginger and garlic and cook over medium heat until it simmers. Remove from heat and let cool before proceeding.
Add the pineapple juice and oil to the cooled liquid, mix well to combine.
Transfer the liquid to a large bowl and add the chicken. Refrigerate for at least 4 hours, turning chicken occasionally.
Place remaining ingredients (the rest of the Jamaican spices (2 teaspoons) - hot sauce plus 1/4 cup water) in a blender and puree until smooth for the glaze. There will be most likely be extra glaze, but it can be refrigerated for another use. It can be refrigerated for about a week or so.
Preheat oven to 350°F.
Remove chicken from marinade, and place chicken in a large baking pan. Discard marinade.
Bake chicken for 40-60 minutes or until done, brushing on glaze occasionally during the last 5-10 minutes of baking.
*Instead of baking chicken the chicken can also be grilled (about 20-30 minutes or until done) brushing on the glaze after the chicken starts to brown.