Marinated Chicken for the Grill
vrvrvr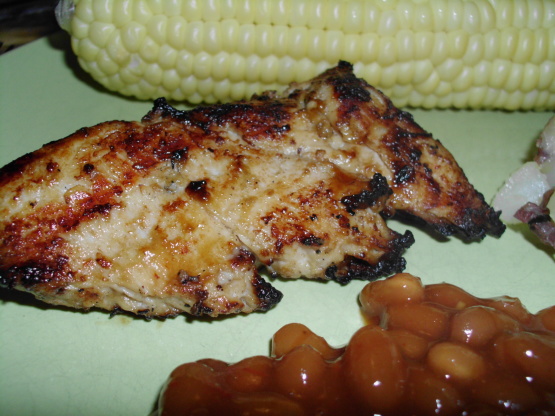 This is my MIL's recipe. When I first watched her make it, I was a little taken aback. I had NEVER seen anyone marinate chicken in mayonnaise! But, it worked!! the chicken did not burn, it was so flavorful and has become the norm in our house. I've only used the full fat mayo for this so I'm not sure if the low fat or fat-free will work. I also skin the thighs, but you don't have to.

Top Review by vrvrvr
Wow, this produced some excellent grilled chicken! I cut the recipe in half to use with about 1.5 lbs. of boneless chicken breasts. I used dijon mustard, and minced a shallot in place of onion slices, and I let it marinate for a couple hours before tossing on the grill. Tons of flavor without losing any juiciness. Thanks Daniele1969!
Throw everything into the gallon size Ziploc bag except the chicken.
Close the bag and shake, squeeze and mix it all up really well.
NOW add the chicken and repeat the mixing process.
You can let it sit for just an hour or for the full flavor, let it sit overnight.
Now throw it on the grill and your done.