Marbled Chocolate Cheesecake
Pixie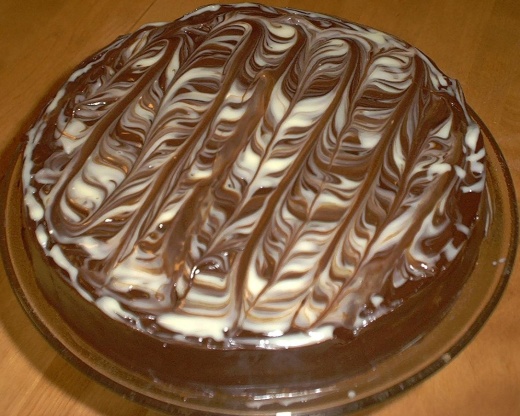 Very pretty frosted like a cake with the top edge piped with a star tip. Found this recipe in a pack of recipes from Great American Home Baking. You can make the cheesecake up to 2 to 3 days in advance, frosting it the day you want to serve it.

Top Review by Pixie
This is a totally fabulous cheesecake! Absolutely delicious! I really like how easy the chocolate frosting comes together. I decided to marble the frosting too, so I melted some white chocolate chips with a bit of sour cream (in the same manner as the frosting) dribbled it around and ran a knife lightly through it a few times. We really enjoyed this, thanks Sharlene.
Crust

2

cups chocolate wafer crumbs

5

tablespoons melted butter

Filling

3

(8 ounce) packages cream cheese, at room temperature

1

cup granulated sugar

5

large eggs

2

ounces semisweet chocolate, melted (2 squares)

Frosting

6

ounces semisweet chocolate, melted (6 squres)
1⁄2 cup sour cream
To prepare crust: In a medium bowl, mix together chocolate crumbs and melted butter until well blended.
Press into a 9-inch springform pan.
Preheat oven to 300°F.
To prepare filling: In a large bowl, beat together cream cheese, sugar, and eggs at medium speed until smooth and fluffy.
Spoon half of cream cheese mixture into crust.
Stir chocolate into remaining cream cheese mixture until well blended.
Spoon over batter in crust.
Run a butter knife (careful not to touch crust) in a"S" curve through batter ONCE.
Bake cheesecake for 50 minutes.
Transfer pan to wire rack to cool completely.
After cooled, transfer cheesecake to serving plate, cover with plastic wrap and chill for at at least 2hours.
Uncover cheesecake; carefully remove the side of pan.
To prepare frosting, in a small bowl, mix chocolate and sour cream.
Spread over cheesecake.
Chill briefly until frosting is set.